Hawk Talk Monthly — April 2018 | I-Club Events Page | Sign Up For Season Tickets | Photo Gallery
Editor's Note: The following first appeared in the University of Iowa's Hawk Talk Daily, an e-newsletter that offers a daily look at the Iowa Hawkeyes, delivered free each morning to thousands of fans of the Hawkeyes worldwide. To receive daily news from the Iowa Hawkeyes, sign up HERE.
By DARREN MILLER
hawkeyesports.com
CORINTH, Texas — Cornith, Texas, is a football town where conversation typically focuses on the high school team.
 
But, there was a twist last fall. Instead of questions about his Lake Dallas Falcons, head coach Mike Young was first asked for his thoughts on alumnus Josh Jackson, who was terrorizing Big Ten Conference passing attacks at the University of Iowa.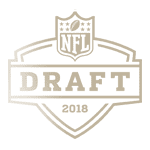 A majority of the 21,000 who live in Corinth tuned into the happenings with the Hawkeyes, especially because their hometown defensive back was tying a school record with eight interceptions.
 
"Everybody knows what's going on," Young said. "Even during the season when he was having games against Ohio State and some of the others on TV, everybody was talking about it.
 
"I would have people not even talking about our games on Friday, but ask 'Did you see Josh playing on Saturday?'"
 
Jackson has returned to the Corinth area for what promises to be one of the biggest weeks of his life. After spending a few days with family and friends in Corinth, he will travel 50 minutes to AT&T Stadium for Thursday's NFL Draft, where he is expected to be a first-round selection.
 
"This is a big football town and they keep up with it," Young said. "There will be a lot of people from Corinth, Lake Dallas, and our school district that will be watching that draft and cheering for him."
 
The athleticism and ball skills that made Jackson an All-American at Iowa served him equally well on the offensive side of the ball at Lake Dallas High School. Young said Jackson was known more as a receiver in high school, making 24 catches for 485 yards and nine touchdowns during an injury-shortened senior season. Because of the injury, his scholarship offers were limited to Colorado State, Nevada, New Mexico State, and Iowa.
 
"Before he got hurt, he had crazy numbers," Young said. "He was averaging well over 100 yards and two touchdowns a game receiving. He was such a good wide receiver.
 
"I thought when he left to go to Iowa, he might still play receiver. I know they moved him there a little bit early on. That is how he is remembered here; he had such great ball skills and you could see that this year in those interceptions."
 
Young knows a professional prospect when he sees it. Other successful Lake Dallas alumni include Dusty Dvoracek, who played for the Chicago Bears, and Daryl Williams, who is an All-Pro offensive tackle for the Carolina Panthers.
 
Prior to Jackson's breakout season in 2017, Young was chatting with former Iowa assistant coach Bobby Kennedy.
 
"(Kennedy) said (Jackson) has a chance to be really, really good and I wouldn't be surprised some day if he gets drafted," Young said. "I said, he isn't even playing right now. I thought (Kennedy) was crazy, but especially after the Ohio State game (in 2017), I was like, yeah, for sure he has a chance to go in the first or second round if he comes out this year. People love corners with length and ball skills and Josh has both."
 
The NFL Draft will be held April 26-28. Jackson is one of many Hawkeyes expected to be selected; offensive lineman James Daniels, like Jackson, is projected to go in the first round. The last time Iowa had two first-round selections was 1997 (Tom Knight and Ross Verba).
 
Young will watch Thursday's draft in his home, surrounded by family and fellow high school coaches. Memories of Jackson will be shared, possibly about the 2013 season opening 44-37 win over Richardson Pearce, when Jackson caught nine passes for 212 yards and four touchdowns. Or perhaps the Iowa-Ohio State game last fall when Jackson intercepted three passes and the Hawkeyes stomped No. 3 Ohio State, 55-24.
 
A lot has happened with Jackson from 2013-17. His first collegiate start came in the 2017 Outback Bowl against Florida. He had 10 tackles and no interceptions as a redshirt sophomore; Jackson's final collegiate start came in the 2017 New Era Pinstripe Bowl against Boston College. He had 48 tackles, 18 pass breakups, and eight interceptions as a junior before declaring for the draft. 
 
"People might call him a one-hit wonder or just coming on this one year," Young said. "But you look at the guys who were in front of him (at Iowa) the last couple years. I'm sure those really good players helped him develop."
 
On Thursday evening, conversation in Corinth, Texas, might once again include Jackson. Perhaps the football-crazed community will be heard giving a group cheer for its native son: Josh Jackson, first-round selection in the 2018 NFL Draft.