Hawkeye Fan Shop — A Black & Gold Store | Hawk Talk Monthly — May 2018 | 24 Hawkeyes to Watch 2017-18
Editor's Note: The following first appeared in the University of Iowa's Hawk Talk Daily, an e-newsletter that offers a daily look at the Iowa Hawkeyes, delivered free each morning to thousands of fans of the Hawkeyes worldwide. To receive daily news from the Iowa Hawkeyes, sign up HERE.
By CHRIS BREWER
hawkeyesports.com
IOWA CITY, Iowa — To learn its postseason fate, the University of Iowa rowing team had to step out of the boat to watch the NCAA Selection Show.
 
Now that the championship field has been announced, it's time to jump back in.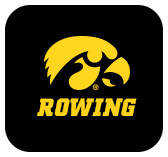 For the second consecutive season, the Hawkeyes are moving on to the NCAA Rowing Championships. The NCAA announced Tuesday that Iowa is one of 22 schools competing for the national title on May 25-27 in Sarasota, Florida.
 
Iowa's crews put together a body of work that left little doubt the Hawkeyes would secure one of the NCAA's 11 at-large bids, but that did not make the news any less special.
 
"This is a team that is on the rise," said Iowa head coach Andrew Carter. "You can see it in their reaction that they don't take anything for granted, and neither do I. They did a fantastic job all season of putting themselves in a position to be selected, not only through the regular season, but at the Big Ten Championships."
 
Iowa placed fourth at the 2018 Big Ten Championships on May 13, scoring a school-record 111 points. It marked the second straight year Iowa set a school record at the conference championships. Last year, it was an effort that ended a 16-year postseason drought. This year, it made the Hawkeyes NCAA repeat offenders.
 
"It was a big thing getting to the NCAA Championships last year," said sophomore Eve Stewart. "It was the first time in 16 years and we competed as hard as we could once we were there, but this year we're going for more. Our goal is to go a little bit higher with the certainty that we have competed against these teams all year. We're ready to go."
 
Stewart is one of four Hawkeyes returning to the I Varsity Eight boat from last year. Ashley Duda, Izzy Dolba, and Kaelynn Heiberg also raced in the first eight when Iowa placed 15th in 2017.
 
"Last year it was a lot to handle at once," Dolba said. "This year we have some races to win and we're excited to be with the top dogs. We're so excited to race because we've put in so much hard work."
 
Now an NCAA "veteran," Dolba has a message for her teammates making their maiden voyage to the national championships.
 
"I would tell the girls who haven't been to the NCAA Championships to not be nervous and trust the work we've put in," Dolba said. "We've put in over one million strokes this season. We have to trust each other, trust our teammates, and trust our strokes to take us across the finish line first."
 
The Hawkeyes will race three boats — the I Varsity Eight, II Varsity Eight, and I Varsity Four — at Nathan Benderson Park from May 25-27. The crews leave for Sarasota on Friday and have one week to get acclimated to the environment before the first race begins May 25 at 9 a.m. (CT).
 
"We're going to go into training camp for a few days," said Carter. "It's a great opportunity to get the team together. Whenever we go to training camp we have fantastic outcomes. It is a tight group, so whenever we get into close quarters it helps us a lot. Plus, we will be getting into the Florida heat and humidity that we are not yet used to here in Iowa. Getting them ready for that and preparing in those conditions is important."
 
The Hawkeyes enter the NCAA Championships ranked No. 8 in the USRowing/Collegiate Rowing Coaches Association Division I Collegiate Rowing Poll. Iowa is seeded No. 7 in the I Eight, No. 8 in the II Eight, and No. 14 in the I Four.