Hawk Talk Monthly — May 2018 | Hawkeye Fan Shop — A Black & Gold Store | 24 Hawkeyes to Watch 2017-18 | Schedule of Events | NCAA Championship Central | 2018 NCAA Championships Notes | VIDEO — Contessa Harold
Editor's Note: The following first appeared in the University of Iowa's Hawk Talk Daily, an e-newsletter that offers a daily look at the Iowa Hawkeyes, delivered free each morning to thousands of fans of the Hawkeyes worldwide. To receive daily news from the Iowa Hawkeyes, sign up HERE.
By DARREN MILLER
hawkeysports.com
SARASOTA, Fla. — If you are a student-athlete at Parker High School in South Dakota, there is an unwritten code that you compete in some sport, any sport, year round. For Contessa Harold, that was volleyball in fall, basketball in winter, and track and field in spring.
 
The other activities offered to female Pheasant student-athletes are cheerleading, cross country, and golf. Not surprisingly, the sport of rowing isn't on the list.
 
Harold, a sophomore, is making up for lost time at the University of Iowa.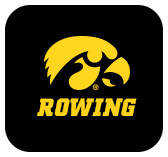 She will play a key role when the Hawkeyes compete in their second consecutive NCAA Championships from May 25-27 in Sarasota, Florida. Harold was named Big Ten Conference Co-Athlete of the Year with Michigan's Kendall Brewer on May 16. She was also named first-team All-Big Ten.
 
"To me, it's all about the team," Harold said. "It is an honor because the Big Ten is deep in rowing, it's very competitive. This year (the Big Ten is) sending five teams (to nationals). It is a big field and for me to get selected out of that is an honor."
 
Joining the Hawkeyes from the Big Ten in the postseason are Ohio State, Michigan, Wisconsin, and Indiana. Harold is a member of the Hawkeye 1Varsity8 boat that is seeded seventh. Iowa is eighth in the 2Varsity8 and 14th in the 1Varsity4.
 
Harold was in the 2Varsity8 boat at the NCAA Championships a year ago in West Windsor, New Jersey, when the Hawkeyes placed fifth and advanced to the C/D semifinal. They placed third in the semifinal and third in the C final to finish 15th overall.
 
It was the first time Iowa competed in an NCAA Championships since 2001.
 
"I didn't quite realize how big of a deal it was," Harold said. "I mostly heard it from my teammates who said we haven't done this in forever. It took me awhile to realize how big of a deal this was.
 
"Seeing how hard everyone has worked — especially over this past summer — now I see it is a big deal. We have to work hard to get here, but we are capable of doing it and it is amazing."
 
So, how did the three-sport athlete from Chancellor in the southeast corner of South Dakota end up at Iowa?
 
"I wanted to go somewhere that was far from home, but not too terribly far," Harold said. "(Iowa) seemed nice because I also like Midwest culture and thought it would be a nice place to visit."
 
In Iowa City, Harold saw more than a beautiful downtown. She also saw opportunities. She hadn't heard of the Hawkeye rowing team yet — although she was intrigued while watching the sport during a recent Olympic games.
 
"With all the student organizations Iowa has, I thought it was a good place where I could find a lot of fun things to do," Harold said.
 
Harold and her roommate messaged each other in the days leading up to freshman arrival. Her roommate had participated in a "Learn to Row Day" with a community club and thought about giving the sport a try at Iowa.
 
Harold heard the rowing coaches like women who were tall; she is tall. Harold also heard they like women who exceled in volleyball; she was team captain and defensive most valuable player.
 
"When we see athletes, whether they are volleyball players, basketball players, track athletes, or swimmers, that is all great," Iowa head coach Andrew Carter said. "When they can do all those things and have that kind of athletic talent, it is going to make their transition into our sport that much easier."
 
Harold likes being on the water and enjoys canoeing (even though she understood that rowing and canoeing are far from the same activity). With no expectations, she gave the rowing tryout a shot.
 
"She has great height and power and she is very coachable," Carter said. "She is aware of what her body is doing in space. When we coach her and ask her to try to do things technically within our sport, she is able to adapt and respond to that coaching well. Her stature and the power she can generate — we have never seen that before at Iowa."
 
Harold, valedictorian of her 22-member high school graduating class, is majoring in civil engineering. Her dream job is to design roller coasters. Carter sees rowing in her near future and national coaches are showing interest.
 
"If she keeps on her present track, we may see her rowing in the red, white, and blue while she is still an undergraduate here," Carter said.
 
This weekend Harold will row with her Hawkeye teammates in the familiar black and gold. Before she builds roads or bridges, she continues to build one of the most improved rowing programs in the nation.
 
"I want to encourage the freshmen that joined the team to get an understanding of the team atmosphere and what we want to accomplish," Harold said. "I want to get (recruits) excited about our program. It's building and you want to be part of that. I hope other people can experience the same things I did."