Hawkeye Fan Shop — A Black & Gold Store | Fight For Iowa | Hawk Talk Monthly — May | Request 2018-19 Season Tickets
Editor's Note: The following first appeared in the University of Iowa's Hawk Talk Daily, an e-newsletter that offers a daily look at the Iowa Hawkeyes, delivered free each morning to thousands of fans of the Hawkeyes worldwide. To receive daily news from the Iowa Hawkeyes, sign up HERE.
By RICK BROWN
hawkeyesports.com
IOWA CITY, Iowa — Life-changing decisions are never easy. There's a long list of pros and cons to consider, a balancing act with no easy answer.
 
On Wednesday morning, Tyler Cook came to the conclusion that putting a promising professional basketball career on hold and returning to the University of Iowa for his junior season was his best choice.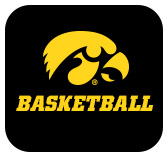 "It was hard," said Cook, who worked out for six different National Basketball Association teams during the process. "I had opportunities both ways, to come back to school or stay in the draft. After a lot of prayer about what was best for myself and my family long term, I felt coming back to Iowa was the smart decision to make."
 
Cook, a 6-foot-9-inch forward from St. Louis, was the Hawkeyes' leading scorer last season (15.3 ppg.) and was the first Iowa sophomore in 23 years to score 500 points in a season. He also led the team in rebounding (6.8) and field goal percentage (.566).
 
Improving his defense, cutting down turnovers, and improving his jump shot are on Cook's to-do list. There's also the issue of leadership.
 
"He wants to lead this team and that's what I love about him," said Iowa head coach Fran McCaffery. "We lost 19 games last year. He has to be the guy that leads us in the locker room, leads us in the weight room, leads us on the floor. I've encouraged him to be that guy."
 
Iowa's top nine scorers return from a season ago. Eight of them were freshmen or sophomores last season. In the four previous seasons under McCaffery, there had been a first-team All-Big Ten senior on the roster.
 
The last was Peter Jok, who also tested the NBA waters before coming back for his senior season when Cook was a freshman in 2016-17.
 
"Pete wasn't the most vocal guy, but there's the fact that he had been there before, he was a senior who had been through good and bad," Cook said. "His composure, and work ethic, is what made him such a great leader."
 
Cook wants to set his own example.
 
"I want to be the guy to lead this team, in every way possible," Cook said. "At the same time, we have other guys who can do it as well."
 
Iowa will also return three other double-figure scorers in junior guards Jordan Bohannon (13.5) and Isaiah Moss (11.1) and sophomore center Luka Garza (12.1). Moss also made himself eligible for the draft but announced Tuesday that he would return to Iowa.
 
"(Isaiah) took a big jump from his freshman to his sophomore year, and I expect to see the same thing out of him," McCaffery said.
 
McCaffery said that when Iowa first started recruiting Cook at the end of his sophomore season at Chamindade Prep, the NBA "was a legitimate part of the conversation, and it should have been."
 
At Iowa's annual media day before Cook's freshman season, McCaffery said, "I think he's capable of being a star, I really do.  You guys who have been around me know I say what I think, typically. So it's not like let's go easy and not push him. I've got a responsibility to be honest. I think he's an impact player, certainly on our team, in our league and on a national level. He's that good."
 
McCaffery was all in when Cook decided to test the NBA waters.
 
"It was time for him to explore his options, which is exactly what he did," McCaffery said. "The kid wants to play in the NBA. I want him to play in the NBA. I want to be part of him reaching his dream."
 
McCaffery said he wasn't surprised by Cook's decision to return to Iowa.
 
"It's going to benefit our team, and it's going to benefit him," McCaffery said. "I think it's a win-win."
 
McCaffery expects to see Cook, who averaged 12.3 points and 5.3 rebounds as a freshman, boost his numbers again.
 
"I think what you're going to see is a guy going into his junior year who really puts the time in on his own to get better, and he's going to be better than he was last year," McCaffery said. "You're going to see those numbers go up again. He's going to have a great impact on our team's ability to be successful. But he'll also improve his opportunity to play at the next level. He's hungry and ready to go."