Hawk Talk Monthly — May 2018 | 24 Hawkeyes to Watch – 2017-18 | I-Club Events Page | Apple App | Android App | Sign Up For Season Tickets
Editor's Note: The University of Iowa Athletics Department, in conjunction with Coca-Cola, will produce exclusive video highlights of the top 10 Iowa football games over the past 20 seasons, as voted on by Hawkeye fans. Hawkeye fans will vote each week between two game options, with the winning game each week advancing as a top 10 moment. Beginning August 13, the weekly countdown of the Top 10 games will begin, with Coca-Cola releasing 16 ounce cans across the Hawkeye State.  Fans will be able to view video highlights of each moment by scanning the Tigerhawk on the cans with the Hawkeye Sports App, via the new augmented reality feature coming to the Hawkeye Sports App later this summer. The release of the greatest moment of the past 20 years is scheduled for Monday, Oct. 8.
Fans can download the Hawkeye Sports App, free of charge, in the Apple App or Google Play stores.
 
Questions concerning the purchase of 2018 football tickets, including general public, University of Iowa faculty/staff and University of Iowa student season tickets by current students, should be directed to the University of Iowa Athletics Ticket Office. The office is open weekdays from 9 a.m. to 4 p.m. The office telephone number is 1-800-IA-HAWKS. Information is also available at hawkeyesports.com/fightforiowa.
 
 
By RICK BROWN
hawkeyesports.com
 
IOWA CITY, Iowa — It only takes a snap of the football to define a career, and leave a lifetime of memories behind. That's why Warren Holloway and Daniel Murray will be forever linked to two of Iowa head coach Kirk Ferentz's greatest victories.
 
Holloway, a fifth-year senior wide receiver, hooked up with quarterback Drew Tate on the final play of the game for a 56-yard touchdown and a stunning 30-25 victory over No. 12 Louisiana State in the Capital One Bowl on New Year's Day, 2005.
 
"I don't know how you could write a better script," Ferentz said.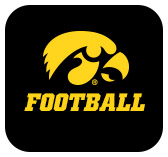 Murray's line-drive 31-yard field goal with a second remaining gave the Hawkeyes a 24-23 victory over No. 3 Penn State at Kinnick Stadium on Nov. 8, 2008.
 
"I think being an Iowa City kid only makes it better, because growing up watching it all, you kind of understand the history and tradition behind the program," Murray said.
 
Holloway's touchdown catch was the first of his career, in his final game as a Hawkeye.
 
"This is a dream," Holloway said of his walkoff moment.
 
Murray, a sophomore who had lost his job to freshman Trent Mossbrucker in the fourth game of the season after missing three of his first four kicks, hadn't attempted a field goal since the Pittsburgh game Sept. 20.
 
Like Holloway, he stepped up in the clutch.
 
"It's something you always dream about," Murray said.
 
It took a crazy sequence of events in both games for those dreams to be realized.
Penn State came to town that chilly November day focused on a national championship. Coach Joe Paterno's team was 9-0. The Hawkeyes were 5-4, and trying to become bowl eligible.
 
A 35th consecutive sellout crowd and a national television audience watched as Iowa scored on its first drive of the game, climaxed by Shonn Greene's 14-yard run. But Penn State ran off 13 unanswered points the rest of the half.
 
"It was discouraging in that first half, I'll be honest," Ferentz said. "But the good news is we were only down six."
 
Iowa's defense buckled down, allowing a Nittany Lion team that had been averaging 41.8 points to just 86 yards of offense and 10 points in the second half. But the Hawkeyes' deficit was still 23-14 in the fourth quarter.
 
Greene, who would pass the 100-yard rushing mark for the 10th consecutive time and win the Doak Walker Award at the end of the season, made it a 23-21 deficit on his second touchdown run with 9:20 to play.
 
When Tyler Sash picked off Penn State quarterback Daryll Clark and returned it 14 yards to the Iowa 29 with 3:47 to go, the table was set for a dramatic finish. It was just the third interception thrown by Penn State all season, and the Hawkeyes' 17th pick.
 
Iowa found itself in three third-down situations, but quarterback Ricky Stanzi wiggled his team out of trouble each time. A pass interference penalty and two complete passes to both Brandon Myers and Derrell Johnson-Koulianos moved the ball into field-goal range.
 
Then Ferentz called on Murray to kick the field goal.
 
"Bottom line, we leaned toward experience," Ferentz said.
 
The 2008 Hawkeyes rode momentum from Murray's kick to finish the year with four consecutive victories and a 9-4 record. That team ended up 20th in the final Associated Press poll.
 
Iowa finished in the top 10 of the final AP poll for a third straight season in 2004, landing at No. 8. The Hawkeyes won their last eight games, finished 10-2, and were Big Ten co-champions
 
The Tate-to-Holloway connection, on a play called "All Up," was the season's lasting memory.
 
"I've been in hundreds of football games," said the late Norm Parker, Iowa's defensive coordinator at the time. "None ever finished like this."
 
The Hawkeyes scored on their first possession — a 57-yard strike from Tate to Clinton Solomon. Ryan Majerus and Miguel Merrick both blocked punts. Merrick's was scooped up by Sean Considine for a 7-yard score and a 14-6 lead.
 
Iowa had a 24-12 advantage with 12:48 left. But coach Nick Saban's team had already won four games with fourth-quarter rallies. And it looked like No. 5 when JaMarcus Russell threw a 3-yard touchdown pass to Skyler Green for a 25-24 lead with 46 seconds remaining.
 
Iowa's last possession started on its own 29, with two timeouts left. After completing a pass to Ed Hinkel to the Iowa 49, Tate spiked the ball. But Iowa was penalized for snapping the ball before it had been put in play. After a 5-yard walkoff, the clock started. Ferentz thought the ball was dead after a penalty, and said after the game he didn't know the rule.
 
Fate and Tate took care of things from there. Tate took the final snap with :08 remaining.
The receivers ran vertical routes to the end zone. No one picked up Holloway, as he sprinted down the right side of the field. He caught the ball at the LSU 16, dodged one defender, and sprinted into the end zone for the first time in his college career.
 
Tate was named the game's most valuable player. He completed 20 of 32 passes for 287 yards and two touchdowns. He thought he had overthrown Holloway with the last one.
 
History tells a different story.
 
Vote for Your Favorite Game
Vote for the game you would select as one of the top 10 Hawkeye football games over the past 20 years: