24 Hawkeyes to Watch – 2017-18 | Hawk Talk Monthly — May 2018 | I-Club Events Page | Sign Up For Season Tickets
Editor's Note: The following first appeared in the University of Iowa's Hawk Talk Daily, an e-newsletter that offers a daily look at the Iowa Hawkeyes, delivered free each morning to thousands of fans of the Hawkeyes worldwide. To receive daily news from the Iowa Hawkeyes, sign up HERE.
By JAMES ALLAN
hawkeyesports.com
IOWA CITY, Iowa — University of Iowa sophomore Nick Niemann says it is time for the linebackers to step out from the shadows.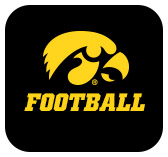 Niemann and the Hawkeye linebacking corps are preparing for life without All-American Josey Jewell and multi-year starters Bo Bower and Ben Niemann.  The graduated trio led an Iowa defense that held opponents to 19.9 points per game last season and combined for 782 tackles, 51.5 tackles for loss, and 14.5 sacks in their careers.
 
"You take as much as you can from (Josey, Ben, and Bo), they were all great players and played multiple seasons," said Nick Niemann. "You have to learn as much as you can while they are here and then run with it when it's your turn."
 
That time is now. 
 
Without incumbents at linebacker, there is a different vibe this summer inside the Stew and LeNore Hansen Football Performance Center.
 
There isn't Jewell or Bower or Ben Niemann or Kevin Ward to follow.
 
"We all lean on each other now," said Nick Niemann. "That is what has been special about this group; last year there were three or four older guys that we relied and leaned on. Now we have to take ownership on our own and lean on each other and help each other out."
 
Niemann is focusing on getting stronger. He wants to get faster and improve physically to be the best he can when the Hawkeyes begin the 2018 season against Northern Illinois on Sept. 1 inside Kinnick Stadium.
 
"It's different from last year, but it's nice because there are new opportunities for everyone," said Niemann. "This year with the heavy competition, guys bring it more.
 
"You have to bring it every day, otherwise the guy nipping on your heels might beat you out.  You have to bring it and be competitive."
 
Niemann played at the weakside linebacker position throughout spring, but he says any of the three spots are possibilities in 2018.
 
Other linebackers vying for starting roles are senior Jack Hockaday, juniors Kristian Welch and Amani Jones, and sophomore Barrington Wade.  Senior Aaron Mends was lost for the season with a knee injury during spring practices.
 
Niemann calls the group close knit.  It's a group that wants to perform to the best of its ability.
 
"We all bonded together during spring ball and we're going to try to be the best we can and try to get better every day so we can perform during the fall," said Niemann. "We're all competitive people, you have to be competitive to play here, but we're a tight group.  We're all friends."
 
They are friends who are ready to step out from the shadows.