Hawk Talk Monthly — June | Fight For Iowa
Editor's Note: The following first appeared in the University of Iowa's Hawk Talk Daily, an e-newsletter that offers a daily look at the Iowa Hawkeyes, delivered free each morning to thousands of fans of the Hawkeyes worldwide. To receive daily news from the Iowa Hawkeyes, sign up HERE.
By CHRIS BREWER
hawkeyeports.com
IOWA CITY, Iowa — Kaelynn Heiberg wanted to be a part of something special and ended up becoming part of history.
 
Heiberg is one of three graduating seniors on the University of Iowa rowing team's first varsity eight boat, along with Izzy Dolba and Ashley Duda. The trio opened their Hawkeye careers on the Iowa River in 2014, and closed their careers last month with the best performance in school history at the NCAA Championships.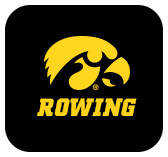 The Hawkeyes scored a school-record 69 points to place 11th at the 2018 NCAA Rowing Championships in Sarasota, Florida. It marked Iowa's second consecutive trip to the national championships — the Hawkeyes placed 15th in 2017 — and signified the end of a four-year construction project for some.
 
"When I came here as a freshman I was looking for a program that was building," Heiberg said. "I found it. Iowa has the mentality and heart. (Head) Coach (Andrew) Carter brought in a new training plan, we worked with him and he slowly built us up. We are proud of where we are and to show that Iowa and the Midwest is a place for rowing."
 
Heiberg said the running joke in 2017 was that the Hawkeyes needed to row through cornfields to complete its training. It had been 16 years since Iowa made an appearance on the NCAA stage, so the Hawkeye hecklers had no reason to believe otherwise.
 
After a repeat appearance in 2018, and a performance that saw all three Iowa boats advance to the Petite Finals while knocking on the door of a top 10 finish, the Hawkeyes have made it clear they do not want listed in the credits as a "guest appearance."
 
"Last year we set a new standard for the program," Carter said. "We reached the championships for the first time in 16 years, and the level of performance we had last year outpaced the championship in 2001. We have taken a giant step forward this year and I am pleased with that. I am proud of these crews, these women, and the work they put in to get themselves here. I'm proud of the enthusiasm they have about the path forward."
 
The Hawkeye seniors have taken a step forward every year. In 2014, the year prior to their arrival on campus, Iowa placed seventh out of seven teams at the Big Ten Championships.  The Hawkeyes improved one spot in the conference standings in 2015, 2016, and 2017, before setting a program record with 111 points and a fourth-place finish at the 2018 Big Ten Championships.
 
"It's crazy to see how far it has come from freshman year," Duda said. "I know in the future it's just going to keep it going. They have a lot of motivation and it's cool to be a part of it."
 
Heiberg said she sees a jump into the top 10 next season. Carter said he follows the expectations set by the team's leaders. The underclassmen — a group that includes Big Ten co-Athlete of the Year Contessa Harold — seem eager to embrace the challenge.
 
"We have an amazing group of seniors and it's going to be hard to see them leave," said Eve Stewart, one of five sophomores on Iowa's first varsity eight boat. "They've set such a tone for this team and created an atmosphere of people who strive for excellence every single day. We're not going to let that go."