Hawk Talk Monthly — June | 24 Hawkeyes to Watch – 2017-18 | I-Club Events Page | Sign Up For Season Tickets | Apple App | Android App
Editor's Note: The University of Iowa Athletics Department, in conjunction with Coca-Cola, will produce exclusive video highlights of the top 10 Iowa football games over the past 20 seasons, as voted on by Hawkeye fans. Hawkeye fans will vote each week between two game options, with the winning game each week advancing as a top 10 moment. Beginning Aug. 13, the weekly countdown of the Top 10 games will begin, with Coca-Cola releasing 16 ounce cans across the Hawkeye State.  Fans will be able to view video highlights of each moment by scanning the Tigerhawk on the cans with the Hawkeye Sports App, via the new augmented reality feature coming to the Hawkeye Sports App later this summer. The release of the greatest moment of the past 20 years is scheduled for Monday, Oct. 8.
Fans can download the Hawkeye Sports App, free of charge, in the Apple App or Google Play stores.
 
Questions concerning the purchase of 2018 football tickets, including general public, University of Iowa faculty/staff and University of Iowa student season tickets by current students, should be directed to the University of Iowa Athletics Ticket Office. The office is open weekdays from 9 a.m. to 4 p.m. The office telephone number is 1-800-IA-HAWKS. Information is also available HERE.
 
 
By RICK BROWN
hawkeyesports.com
 
IOWA CITY, Iowa — After being named University of Iowa's head football coach in December of 1989, the first order of business for Kirk Ferentz was putting together his staff. When it came to hiring a defensive coordinator, Ferentz narrowed it down to three finalists. One was Norm Parker.
 
"I got one right, at least, hiring Norm," Ferentz said.
 
Parker, beloved by his players, engineered a no-frills defense that played a key role in many of the 143 victories of the Ferentz era.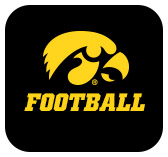 Parker retired for health reasons after the 2011 season and passed away in January, 2014. Ferentz gave the eulogy and mentioned three games that had Parker's fingerprints all over them.
 
One was Iowa's 27-17 upset of Northwestern at Kinnick Stadium on Nov. 11, 2000. That was Ferentz's first victory against a rated team as the Hawkeyes' head coach.
 
Parker, a Michigan native and Eastern Michigan graduate whose coaching stops included Michigan State, also loved the challenge of facing Michigan. On Oct. 4, 2003, Kinnick Stadium was the stage for another memorable victory. The Hawkeyes rallied from a 14-0 first-quarter deficit to beat the ninth-ranked Wolverines for a second straight season, 30-27. It marked the first time Iowa had defeated Michigan in back-to-back years since 1984 and 1985.
 
Iowa entered that 2000 game with Northwestern on an uptick, coming off a 26-23 double overtime victory at Penn State. The night after that trip to Happy Valley, Ferentz and Parker watched tape of the Wildcats' 54-51 victory over Michigan.
 
"It wasn't a great way to end the Penn State weekend," Ferentz said.
 
Northwestern's no-huddle offense ran circles around a Michigan defense that tried to keep up by constantly subbing players. It was a strategy that Ferentz thought was Iowa's best option, too. Parker didn't.
 
"He had a different thought," Ferentz said. "He was right and it was a good learning experience for me. I think the obvious answer was sub the defense, like a lot of people did. Like Michigan did, and they didn't do so well. But I think Norm's wisdom was, 'Let's get our best 11 guys out there.'"
 
Instead of following conventional wisdom and trying to stop the pass first, Parker put an emphasis on slowing the Wildcats' running game. After racking up 654 yards of offense against Michigan, Northwestern had just 377 and quarterback Zac Kustok was sacked seven times. The high-octane Wildcats managed only 129 yards on the ground and had its second-lowest offensive output of the season. They had come into the game averaging 38.4 points and 486.3 yards of offense.
 
"It was as good a job as we've had done against our offense," Northwestern head coach Randy Walker said.
 
Ferentz described Iowa's defensive effort in one word: Tremendous.
 
"We were as vanilla as you could get," Parker said. "You couldn't go to the ice cream store and get more vanilla than we were."
 
The offense also played a big role in the program's first victory over a rated foe since handling No. 18 Purdue, 35-17, in 1997. Quarterback Kyle McCann completed 17 of 27 passes for 250 yards, including touchdown throws to Kahlil Hill and Kevin Kasper. He also ran for Iowa's final score.
 
Iowa's 2003 victory over Michigan included an unlikely hero.
 
"The key player in that game was Ramon Ochoa," Ferentz recalled. "He wasn't very tall and he wasn't very fast. He had shin splints or a stress fracture. But some how, some way, he made a lot of big plays."
 
Ochoa, a 5-foot-10, 189-pound senior from Maywood, California, made his mark as a kick returner and a wide receiver against the Wolverines.
 
Iowa's offense was spinning in neutral to start the game and Michigan scored touchdowns on its first two possessions. After Iowa quarterback Nathan Chandler scored on a 6-yard run to cut the deficit in half, the Wolverines added a field goal on their third possession.
 
Michigan was holding a 20-10 lead late in the half when Ochoa returned a punt 43 yards, and 15 more were tacked on because of a facemask penalty. Iowa took over at the Michigan 9, with 1:46 on the clock.
 
Three plays later, Chandler and Calvin Davis connected for a 6-yard touchdown pass with 19 seconds left. It was the first touchdown pass allowed by Michigan's defense all season.
 
Nate Kaeding's third field goal of the game, from 32 yards, gave Iowa its first lead of the game, 23-20, with 1:34 remaining in the third quarter. Ochoa caught a 31-yard touchdown pass from Chandler to give Iowa a 30-20 lead with 5:16 on the clock. Ochoa bobbled the ball and the officials huddled to discuss the play before deciding he had possession long enough to rule it a touchdown.
 
Michigan countered with a 41-yard scoring strike from quarterback John Navarre to Braylon Edwards with 3:43 to go, and then had one last chance to win the game. But the Wolverines never got closer than the Iowa 49.
 
Chandler completed 17 of 34 passes for 195 yards, those two touchdowns and an interception. Running back Fred Russell ran for 110 yards in 26 carries. Iowa's defense limited Michigan to 74 yards rushing.
 
Ochoa had two receptions for 36 yards and that touchdown. He returned three punts for 48 yards, and three kickoffs for 85 yards. Shin splints and all.
| | |
| --- | --- |
| Week One Winner | 2005 Capital One Bowl |
| Week Two Winner | 2002 Minnesota |
| Week Three Winner | 2004 Wisconsin |
Vote for Your Favorite Game
Vote for the game you would select as one of the top 10 Hawkeye football games over the past 20 years: