Hawk Talk Monthly — June | Fight For Iowa | Request 2018-19 Season Tickets
Editor's Note: The following first appeared in the University of Iowa's Hawk Talk Daily, an e-newsletter that offers a daily look at the Iowa Hawkeyes, delivered free each morning to thousands of fans of the Hawkeyes worldwide. To receive daily news from the Iowa Hawkeyes, sign up HERE.
By BAILEY TURNER
hawkeyesports.com
IOWA CITY, Iowa — Sophomore Riley Till has gone from high school star to walk-on to one of the most vocal players on the University of Iowa men's basketball team's bench.
 
"It was a big culture shock going from one of the best players on my team to the bottom of the totem pole," said Till. "You have to find your role and treat practices like they are games because you know you don't get as many minutes as the other guys."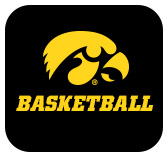 Till was a prep teammate of Cordell Pemsl at Dubuque Wahlert (Iowa) High School.  They won the 2015 state title and finished as the state runner-up in 2016. As a senior, he averaged 10 points, four rebounds, and three assists.
 
Till grew up around the Hawkeyes. His sister, Claire, was a member of the Iowa women's basketball team from 2013-16.  His father played baseball at Northern Iowa and his mother played basketball at Drake. Till's mother, Shelley, was also the radio color analyst for the women's basketball team for more than a decade.
 
That's where the true Hawkeye connection came into play. 
 
"Growing up 90 minutes made Iowa City feel like a second home," Till said. "I have always aspired to play here. I grew up knowing the coaching staff, coach Sherman Dillard, especially."
 
Till did not have many offers out of high school, other than from a few Division II and junior colleges. On one of the last days playing for the Iowa Barnstormers, playing alongside Connor McCaffery, his hard work had paid off.  He was presented a walk-on opportunity with the Hawkeyes. 
 
"I had no clue what I was going to do," said Till. "I figured I would either play for a prep school or go to junior college so I could work and maybe get a better offer. I was lucky to play as well as I did in front of coach (Fran) McCaffery, and I received a call shortly after the tournament. It was a dream come true."
 
As a redshirt freshman, Till saw the floor eight times, registering one field goal. Following the graduation of walk-on Charlie Rose, Till has ascended to being the new leader of the team's bench mob.
 
"We try to effect the game any way we can," Till said. "Whether it's calling out screens, cutters, and helping out on both sides of the ball. We try to keep the players on the floor going by giving them high fives and going crazy on the sidelines. It keeps it interesting for us and them. It adds energy to game; it's a lot of fun."
 
Walk-ons are asked to do a lot things for not a lot in return. Pemsl credits Till for his hard work and for being a great teammate on and off the court.
 
"Riley is someone who is selfless," Pemsl said. "He's a guy who will do whatever anyone around the program asks him to do. He gives 100 percent at all times. There's a lot more to Riley than just being an Iowa basketball player."
 
Being a part of the Iowa basketball program has been the opportunity of a lifetime for Till, as he's experiencing life in big-time college basketball.