24 Hawkeyes to Watch – 2017-18 | Hawkeye Fan Shop — A Black & Gold Store | Hawk Talk Monthly — June
Editor's Note: The following first appeared in the University of Iowa's Hawk Talk Daily, an e-newsletter that offers a daily look at the Iowa Hawkeyes, delivered free each morning to thousands of fans of the Hawkeyes worldwide. To receive daily news from the Iowa Hawkeyes, sign up HERE.
By RICK BROWN
hawkeyesports.com
IOWA CITY, Iowa — Sean McCarty was 30 years old when he made his major championship golf debut at the 2003 U.S. Open. Fifteen years later, the former University of Iowa golfer is returning to the big stage.
 
McCarty, the head golf pro at Brown Deer Golf Club in Coralville, Iowa, is in the field for the PGA Championship which starts August 9 at Bellerive Country Club in St. Louis, Missouri. McCarty qualified by tying for second at the PGA Professional Championship this June in Seaside, California.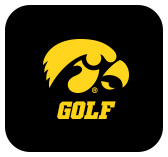 "Getting there was on my bucket list," said McCarty, a prep star at West Branch, Iowa, who was Big Ten Freshman of the Year in 1992 and a two-time All-Big Ten performer for the Hawkeyes. "I loved playing in the U.S. Open. This is going to be fun."
 
McCarty missed the cut at the 2003 U.S. Open, played at Olympia Fields outside Chicago. After opening with a 78, he broke par in the second round with a 1-under-par 69, and left with some positive final-round memories. That includes holing a 45-yard wedge shot from deep rough on No. 13 for a birdie. He also made a 60-foot birdie putt on No. 8.
 
McCarty traveled to Bellerive and played a practice round in early July. It wasn't the first time he played a course that has also hosted the 1965 U.S. Open and 1992 PGA Championship.
 
McCarty was 15-years-old when he played in the National PGA Junior at Bellerive.  The Golf Channel asked him to search for some mementos from that event. He found three scorecards his parents had saved.
 
"I only saw one of them and I shot 76," McCarty said. "I don't remember what the other two scores were. The Golf Channel guys took them before I could look at them."
 
McCarty's return to Bellerive last month rekindled some memories.
 
"I didn't remember a lot of the holes, but I just remember I loved the golf course," McCarty said.
 
McCarty has had an excellent season on the golf course this summer. In addition to his strong finish at the PGA Professional Championship, he qualified for his sixth John Deere Classic.
 
When he got to his final hole in the second round of the annual PGA Tour stop in the Quad Cities, McCarty knew he needed a birdie to make the cut. His final hole was No. 9 at TPC Deere Run, a 502-yard par-4 playing into the wind. Statistically, it was the second-toughest hole all week.
 
McCarty hit a drive 342 yards to the middle of the fairway. Then he hit an 8-iron to 5 feet and made the birdie putt.
 
"It's good to know I did it when I needed it," he said.
 
McCarty, who tied for 23rd in the 1997 Deere, missed the cut for the final round. His consolation prize, for rounds of 68-71-72, was a check for $10,730.
 
McCarty's driver has been his best friend all summer, and he hopes that continues at Bellerive.
 
"I think I can rip driver on most of the holes there, which is good," McCarty said. "My driver has been good this year."
 
McCarty also has a 2-iron and 3-wood he likes, and they might become an option off the tee if his driver starts to stray.
 
"The course is good, but the rough is brutal," McCarty said. "If you get in the rough, it's going to be a penalty. I've never seen rough so bad."
 
McCarty had planned to make another visit to Bellerive in mid-July, but he had to change his plans after qualifying for the John Deere. Bellerive was shut down to play on July 22 and did re-open until August 5 to make sure it is in the best shape possible when the players arrive.
 
McCarty will have a friendly face on his bag at Bellerive. It will be his brother, Chad, who still holds Iowa's school record for the lowest round ever shot. He posted a 62 in 1997 at the Johnny Owens Invitational.
 
"Chad knows my game as well as anybody," McCarty said. "He's a good player himself. Having him out there is a big confidence booster."