Hawkeye Fan Shop — A Black & Gold Store | Hawk Talk Monthly — June | Single Game Football Tickets | Fall Camp Central | Photo Gallery
Editor's Note: The following first appeared in the University of Iowa's Hawk Talk Daily, an e-newsletter that offers a daily look at the Iowa Hawkeyes, delivered free each morning to thousands of fans of the Hawkeyes worldwide. To receive daily news from the Iowa Hawkeyes, sign up HERE.
By RICK BROWN
hawkeyesports.com
IOWA CITY, Iowa — Success on the football field one season can lead to a world of hype the next.
 
"When the adulation and praise comes in, I think it can effect anybody," University of Iowa head football coach Kirk Ferentz said. "Success can be intoxicating, but to be any good you have to be sober."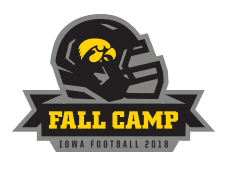 No one in a Hawkeye uniform has received more preseason adulation than junior tight end Noah Fant. The 6-foot 5-inch, 241-pounder from Omaha, Nebraska, has been named a preseason All-American by multiple publications and is on preseason watch lists for the Mackey and Walter Camp awards. He was also on the Big Ten's preseason honors list.
 
"Part of being a good player is that you're going to get complimented," Ferentz said. "So can you live with that and remain hungry to get better?"
 
Ferentz has seen no red flags from Fant, who led all FBS tight ends by averaging 16.5 yards per catch and set an Iowa tight end record with 11 touchdowns in 2017.
 
 "The exciting thing for us is he has a world of improvement to make yet," Ferentz said. "He'll be bigger, stronger, and faster this year, and he's a smarter, better football player than he was a year ago."
 
And there's another proven tight end in uniform at a school that has produced plenty of them.
 
Sophomore T.J. Hockenson is also on the Mackey Watch List. Last season, the 6-5, 250-pounder from Chariton, Iowa, had 24 catches for 320 yards and three touchdowns.
 
 "He has a great attitude, and he's smart, so you could see it coming," Ferentz said. "What he did last year didn't surprise us in the least. The thing that has us excited is what he did in 2017 is hardly the pinnacle of his career. He has so much growth and upside in front of him."
 
The challenge for offensive coordinator and tight ends coach Brian Ferentz is to find ways to maximize what Fant and Hockenson bring to the offense.
 
"There's some good potential there," Brian Ferentz said. "We probably need to live up to that potential at some point. They have done a nice job, and they have earned the right to get some of the attention they have. The thing we need to do is develop some guys around them as well. I know defenses can defend two guys."
 
Iowa's tight ends room isn't limited to two seats. Brian Ferentz mentions junior Nate Wieting, junior Drew Cook, and sophomore Shaun Beyer as three guys to watch. Wieting is the most experienced of the three.
 
"He's a guy that has been right at the scene of the crime when we've done some good things as a football team," Brian Ferentz said.
 
Cook, a converted quarterback, is catching up fast.
 
"We're encouraged about the future with Drew, and I could see him coming in a game and helping us right now," Brian Ferentz said. "He has been a quick study. Beyer is an intriguing guy who has made a lot of progress."
 
Fant said he has zeroed in on improving daily.
 
"Honestly, I feel like the best thing for me is to come in with a workman-like attitude every day," Fant said. "I try to block the other stuff out because it is preseason stuff."
 
Hockenson first caught Kirk Ferentz's eye when he played on the scout team while spending the 2016 season as a redshirt.
 
"Our defense was OK," Ferentz said. "It's not like we stunk.  This guy is over there doing some good things and giving them issues."
 
Hockenson often played wide receiver on the scout team.
 
"I remember going against Desmond King, and the other defensive backs," Hockenson said. "That helped me, going against our No. 1s, because I got to see tendencies. It helps your confidence when you catch the ball against the No. 1s."
 
Hockenson introduced himself to the Big Ten last season, especially in Iowa's 55-24 upset of No. 3 Ohio State. He set career-bests with five catches, 71 receiving yards, and two touchdowns. Fant had four catches for 54 yards and two touchdowns.
 
"It's a lot of fun playing with Noah," Hockenson said. "We all have our special abilities. We can do a lot of things. We're always talking on the field, each play, figuring out what the defense is presenting us with and how to use it."
 
Fant knows he's far from a finished product as a football player.
 
"There's so much I can improve on, so many things I can get better at," Fant said.
 
And if he loses focus, Brian Ferentz is quick to get him back in the fast lane.
"It's a daily reminder that, 'Man, I have a lot of things to work on,'" Fant said. "It's not nit-picking. He's just being a good coach."
 
Brian Ferentz is quick to credit Fant and Hockenson for keeping the hype on ice.
 
"It's a breath of fresh air in a lot of ways," Brian Ferentz said. "I've been around a lot of players who do think that way, and that's a huge challenge. Right now, all signs are positive."
 
And if that changed, Fant knows he'll hear about it.
 
"He's a good hype train stopper," Fant said. "That's for sure."
 
Iowa will hold Kids Day at Kinnick today at 11 a.m. (CT).  The Hawkeyes season opener is Sept. 1 against Northern Illinois.  Tickets are available HERE.