Hawkeye Fan Shop — A Black & Gold Store | Hawk Talk Monthly — June | Single Game Football Tickets | Fall Camp Central | Photo Gallery
By RICK BROWN
hawkeyesports.com
 
IOWA CITY, Iowa — When Kids Day was held a year ago at Kinnick Stadium, University of Iowa football head coach Kirk Ferentz was unsure of what he had in terms of receivers.
 
On Saturday, it was a much different story.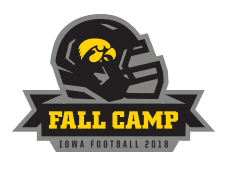 Four players — split ends Brandon Smith and Kyle Groeneweg and wide receivers Nick Easley and Ihmir Smith-Marsette — have stepped up and showed progress at the position.
 
"I hope other guys can join those four," Ferentz said. "But talk about a dramatic difference from Kid's Day a year ago, when it was pretty much non-existent. Smith-Marsette and Smith are hardly there yet, but they're moving in the right direction."
 
Easley emerged in the 2017 season opener against Wyoming and has been a solid contributor ever since. Groeneweg is a transfer from the University of Sioux Falls who caught the eye of the coaching staff in practices last December heading into the New Era Pinstripe Bowl.
 
"We have four guys who are going to go out and run full-speed routes and try to get the ball and all that stuff," Ferentz said. "There are plenty of opportunities for other guys to jump in there and join the group."
 
Groeneweg is also a leading candidate to be the Hawkeyes' punt returner.
 
"I'd say he's probably the front-runner right now," Ferentz said. "That impressed us last year, the ease and fluidity he had catching the football and the confidence he has in doing that."
 
Saturday was the eighth practice and first scrimmage of fall camp. 
 
"Like most first scrimmages we saw some good things out there, both individually and some actual collective efforts that looked fairly cohesive and smooth," Ferentz said. "But on the flip side, there are a lot of things to work on. I'm not sure if we hit 20 penalties, but we were close if we didn't."
 
In addition to an autograph session for kids, and an opportunity to see the players for the first time this season, Saturday marked the 10th anniversary of the Kid Captain program. The 13 honorees for the 2018 season got to meet with Hawkeye seniors in the locker room and do some other special things.
"When the Kid Captain concept came to our office, boy, it was a no-brainer," Ferentz said. "It's great that the kids get recognized. With every patient there's a family involved. It's one of those two-way streets where I think maybe our guys benefit more from it than the Kid Captains themselves."
 
On the field, there were some pleasant surprises as Ferentz's 20th Hawkeye team takes shape.
 
One of those players was running back Mekhi Sargent, a 5-foot 10-inch, 210-pound sophomore who joined the program from Iowa Western Community College in Council Bluffs. Easley also started his career there.
 
"(Friday) morning he flashed a little bit, and (Saturday) he continued that," Ferentz said. "It's catching up to the speed of the game. He has been impressive. It's encouraging to see him come along like that."
 
Sargent joins Ivory Kelly-Martin and Toren Young to give the position three quality options.
 
"That's where Mekhi is important to us," Ferentz said. "If you have three guys, it's a little easier to sleep at night. "
 
Three true freshmen also got reps with the second unit Saturday – defensive back Julius Brents, linebacker Seth Benson, and defensive lineman Tyler Linderbaum.
 
"Brents flashed (Saturday)," Ferentz said. "He also totally blew a blitz (Friday). He was supposed to come and he was dropping. You're going to live with that with the younger guys, but it's a good chance for us to see what they do and how they react."
 
Linderbaum, from Solon, had a busy summer. In addition to playing baseball for the Spartans, he took a class and also participated in 6 a.m. workouts.
 
"He impressed us this summer by doing what he did and juggling the whole schedule and doing a nice job with it," Ferentz said. "It goes back to high school. Pretty much everything Tyler did was quality. He seems to be one of those guys that there's a little something to him besides being a good player. He makes other people a little better. He has a lot to learn, but he's doing a nice job."
 
Benson got some reps with the No. 2 defense because Barrington Wade has missed some practice with an injury.
 
"I don't know if he'll be in the two-deep or play special teams," Ferentz said of Benson "I don't know if he's doing the right thing, but he just seems to be around the ball all the time. To me that's a good thing if you're a defensive guy."
Senior defensive end Sam Brincks has been getting work in the middle of the line as well, like Parker Hesse did in third-down situations last season. Ferentz has been impressed with what Brincks has shown.
 
"He's starting to blossom right now," Ferentz said. "These past eight months his confidence level has grown, and he works hard."
 
The Hawkeyes open the 2018 season Sept. 1 against Northern Illinois. Kickoff at Kinnick Stadium will be at 2:30 p.m. (CT).