24 Hawkeyes to Watch 2018-19 | Single Game Football Tickets | 2018 Football Fall Camp Central | Photo Gallery — Practice 9 | I-Club Events Page
Editor's Note: The following first appeared in the University of Iowa's Hawk Talk Daily, an e-newsletter that offers a daily look at the Iowa Hawkeyes, delivered free each morning to thousands of fans of the Hawkeyes worldwide. To receive daily news from the Iowa Hawkeyes, sign up HERE.
By DARREN MILLER
hawkeyesports.com
 
IOWA CITY, Iowa — When recruiting the state of Florida, few Division I football coaches feel the urge to travel south of Miami and its abundance of talent.
 
Time will tell, but because of that, they might have whiffed on a 5-foot-10, 210-pound jewel 165 miles from Miami on the island city of Key West.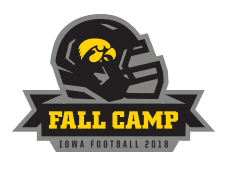 Call him overlooked, flying below the radar, or under-recruited, but Mekhi Sargent is a Hawkeye now, one year removed from leading the National Junior College Athletic Association in rushing yards. In 2017, Iowa Western won 11 of 12 games and Sargent averaged 144.9 yards per game on the ground.
 
"It is hard to find a guy in the Keys, so he was kind of overlooked," said Derrick Foster, Iowa's first-year running backs coach. "I don't know many schools that go down to Key West, Florida. Some stop in Miami, some go a little further, but I think he was flying under the radar."
 
Iowa recruiting coordinator Kelvin Bell attended the Graphic Edge Bowl in Cedar Falls on Dec. 3, 2017, to watch Hawkeye defensive line recruit Daviyon Nixon. Nixon was as good as advertised with seven tackles and two quarterback hurries during Iowa Western's 36-19 win over Northwest Mississippi Community College. As disruptive as Nixon was on defense, Iowa Western also had a head-turner on offense.
 
It was Sargent, who rushed for 151 yards on 21 carries.
 
"He broke tackles," Bell said. "One or two guys couldn't bring him down. He is compact, has some wiggle, and catches the ball well out of the backfield."
 
And he wasn't doing it against chopped liver.
 
Northwest Mississippi won eight games, including a 23-point victory over No. 1 East Mississippi. After the loss to Iowa Western, the Rangers had defensive players sign with Ole Miss, West Virginia, Louisville, and Memphis.
 
Bell returned to campus and at the next coach's meeting provided Ferentz a recruiting update.
 
"Kelvin made the comment that he saw a running back he felt was a good football player," Ferentz said. "We felt Mekhi was being under-recruited."
 
But the Hawkeyes didn't have a need at running back…until a medical issue to Toks Akinribade created a roster opening.
 
"It was a fast decision — Iowa was recruiting me throughout the season and I made the decision that was best," Sargent said. "Coach Ferentz does an unbelievable job with the program and I know that with me coming here, I would be best prepared to be where I want to be in the future."
 
Sargent, who has three years of eligibility, arrived in Iowa City in June. He is making the most of his first two-and-a-half months as a Hawkeye.
 
"I need to seize the opportunity," Sargent said.  "I'm thankful to be here and I want to play my role and do whatever I can to help this team win."
 
Iowa's top two ground-gainers from a season ago graduated. Akrum Wadley and James Butler combined for 1,505 yards and 11 touchdowns during the Hawkeyes' eight-win season that ended with a 27-20 victory in the New Era Pinstripe Bowl. That doesn't mean the running back room is empty: sophomores Toren Young and Ivory Kelly-Martin are listed 1-2 on the preseason depth chart.
 
Ferentz says Sargent is a good fit who is already widely accepted by teammates. Foster says he is tough, smart, and physical, the prerequisites to becoming a successful Hawkeye. Bell sees similarities between Sargent and wide receiver Nick Easley. In 2016, Easley played for Iowa Western and led the NJCAA with 72 catches. Last season, Easley led Iowa with 51 receptions for 530 yards.
 
"You have to figure we hit lightning twice," Bell said with a grin.
 
Time will tell.