Hawkeye Fan Shop — A Black & Gold Store | Hawk Talk Monthly — June | 24 Hawkeyes to Watch – 2017-18
Editor's Note: The following first appeared in the University of Iowa's Hawk Talk Daily, an e-newsletter that offers a daily look at the Iowa Hawkeyes, delivered free each morning to thousands of fans of the Hawkeyes worldwide. To receive daily news from the Iowa Hawkeyes, sign up HERE.
By SHANE STURTZ
hawkeyesports.com
IOWA CITY, Iowa — A year removed from an up-and-down season, the University of Iowa field hockey team is motivated to return to the top of the Big Ten in 2018. Losing four seniors, including goalkeeper Katie Jones, is never easy, but this year's team chemistry and youth looks to pay dividends.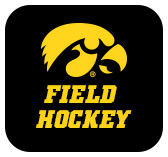 "Last season didn't go how we wanted it to," said junior midfielder Katie Birch. "We were not where we wanted to be within the Big Ten. This year that's what we're concentrating on. We had 14 girls come back for summer to all train together, which is amazing. We all worked hard. We've been positive and energetic about it and we're ready to hit the ground running."
 
The summer cohesiveness of the team, their willingness to improve their skills and fitness, and their intense focus have all impressed head coach Lisa Cellucci throughout the offseason and preseason.
 
"We grew a lot in the spring," Cellucci said. "We had small numbers, but it was great for everybody because everybody grew in terms of experience and confidence. The team made a great commitment over the summer. It allows us to start off at such a higher level than we did last year. I couldn't be prouder of the transition that we've had from the spring to the fall."
 
Of the 14 returners, nine saw action in all 18 contests, which is a big deal for a young team that has only three seniors compared to 13 underclassmen. With seven new faces and personalities, the team has bonded well together.
 
"With everything we've went throughout the entire year — the cohesiveness is great," Cellucci said. "We have a lot of different individuals with different personalities, but everybody respects each other, and they get along wonderfully."
 
Building relationships and strengthening team chemistry plays part in Iowa field hockey's tradition of excellence.
 
"We spend a lot of time building our culture here," Cellucci said. "A piece of having a championship culture is placing a precedent on results and relationships. We spend a lot of time building relationships."
 
Culture, relationships, and underclassmen seem to be the driving force early this season. Cellucci is excited about the underclassmen and the role they could play.  
 
"We're excited about our newcomers," Cellucci said. "Most of them are going to see the field a lot this fall and have already impressed so far this preseason."
 
Some new Hawkeye blood could be the perfect combination with NFHCA third-team All-American Katie Birch and NFHCA second-team All-West region honoree Maddy Murphy.
 
Senior defender Riley Kniptash, one of Iowa's three seniors, echoes the statements of Birch and Cellucci, but also recognizes the importance of her leadership role. 
 
"There are a lot of little things you have to pick up on as the season goes so we're trying to fill them in now," Kniptash said. "Little things that come up, like traveling and game day. We're trying to fill them in and give them a nice base so the whole season runs smoothly."
 
The Hawkeyes open their season August 25-26 with two road tests in Chapel Hill, North Carolina, against nationally-ranked Wake Forest and North Carolina as part of the Big Ten/ACC Challenge.  
"Opening weekend is always tough," Cellucci said. "We've been doing this for the past 18 years — the Big Ten/ACC Challenge — so you know right away where you stand after that weekend. We're looking forward to the great competition. You have to play the best to be the best."