Hawkeye Fan Shop — A Black & Gold Store | Hawk Talk Monthly — June | Fall Camp Central | Single Game Football Tickets
By JAMES ALLAN
hawkeyesports.com
IOWA CITY, Iowa — Similarities exist between University of Iowa junior Michael Ojemudia and the All-America defensive back he's replacing. 
 
Former Hawkeye Josh Jackson was a two-star prospect out of Corinth, Texas. Ojemudia was a two-star recruit from Farmington Hills, Michigan.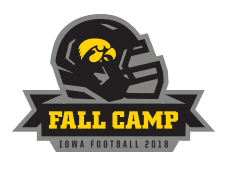 Jackson had one career start entering his junior season. Ojemudia started three of Iowa's first six games alongside Jackson as a sophomore. He has four career starts heading into 2018.
 
In his first two seasons at Iowa, Jackson had 18 career tackles and zero interceptions.  Ojemudia has 34 career tackles and zero interceptions in two seasons.
 
A year ago, Jackson was anything but a proven commodity when the Hawkeyes were preparing to open the season against Wyoming. Now, Jackson is in his first season in the NFL with the Green Bay Packers.
 
"(Jackson) was in my shoes a year ago," said Ojemudia. "I feel like if I prepare like him and prepare to be my best every game, I can do well during the season."
 
There is no debate, Ojemudia has gigantic shoes to fill, but Iowa defensive coordinator Phil Parker has been impressed by Ojemudia's growth.
 
"He has taken his craft and improved it," said Parker. "He has improved his footwork and he understands our defense.
 
"I have seen a more serious side to him. Instead of accepting that he is a backup, he has taken charge and is running with the (first unit).  He is more confident and knows more of what is going on."
 
Ojemudia saw action in all 13 games last season, making 29 tackles with 20 solo stops.  He made a career-high eight tackles (four solo, four assists) in a road loss at Michigan State before accounting for six solo tackles in the Hawkeyes' 45-16 victory over Illinois.
 
"I have so much more confidence (heading into the 2018 season) because of my mental focus," he said. "It doesn't have anything to do with me physically. It's my mental focus, anticipating what the opposition wants to do and being ready when your number is called."
 
As Iowa's most experienced (and eldest) defensive back, Ojemudia knows he needs to bring the younger players along at a rapid pace. Those underclassmen include sophomore Matt Hankins, redshirt freshmen Josh Turner and Trey Creamer, and true freshmen Julius Brents and D.J. Johnson.
 
"In the grand scheme, we're a young group," said Ojemudia. "The young kids are going to have to contribute this year in nickel and sub-packages. Bringing them along is a big thing we have to do, but they're coming faster than expected.
 
"They're going to have a big impact and us older guys paving the way are going to be a big part of this season."
 
Jackson wasn't on anyone's radar before his rapid rise in 2017.  Ojemudia is hoping to follow a similar script while leading the Hawkeyes to a successful 2018.
 
"We're eager to prove ourselves," said Ojemudia. "We want to prove that we can play good, team defense."
 
Iowa opens the season Sept. 1, hosting Northern Illinois at 2:30 p.m. (CT) inside Kinnick Stadium.  Tickets are available through the Iowa Athletics Ticket Office by clicking HERE.