24 Hawkeyes to Watch 2018-19 | I-Club Events Page | Single Game Football Tickets | 2018 Football Fall Camp Central | Photo Gallery – Practice No. 16
By JACK ROSSI
hawkeyesports.com
IOWA CITY, Iowa — Before his first day on the job, first-year University of Iowa running backs coach Derrick Foster knew what the Hawkeyes' running game was about.
 
"When you think of Iowa, you think of toughness," he said.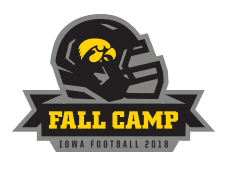 As a native of Goshen, Alabama, Foster might not have known much about Iowa winters or the program's history, living in SEC country, but he was well-aversed to the tradition the Hawkeyes created on the gridiron.
 
"I understood from the outside looking in," Foster said. "You knew Iowa had a tradition of running backs. You think of big, tough backs that are downhill and not afraid of running through tackles. They've always had big offensive linemen. If they are going to do something well, they are going to run the ball well."
 
Foster entered the coaching world in 2011 after wrapping up his playing career at Southwest Baptist University. His first job was at Valdosta State where he met a new coaching staff, including an assistant named Seth Wallace.
 
"Seth was one of the first guys I met," Foster said. "Over a period of time we developed a relationship and it grew from there. I was always interested in what the defense was doing. He would take the time to tell me what they were doing and the looks they were giving."
 
The two eventually parted ways with Wallace leaving to come back to Iowa, but they kept in touch and when an opportunity presented itself, Foster received a call.
 
(Seth) called one day and said we may have a position open and then (head) coach (Kirk) Ferentz gave me a call," Foster said. "Everything went from there."
 
Foster was announced as the Hawkeyes' 10th assistant coach on January 23, 2018.
 
"I am so appreciative of an opportunity of this caliber to be in a program like Iowa," Foster said. "I would say there is no pressure, but I am embracing the moment and seizing every opportunity. It has been very fun to be around the staff and players."
 
Eight months later, Iowa graduated its top two running backs, who are now on NFL rosters. Foster has six running backs on the roster with each one vying for playing time this fall, and for Foster, it's about seizing the moment.
 
"You have to make today count," he said. "Yesterday is over and tomorrow may never come. The only thing that matters is the moment. We have to focus on that because we will never get this day back. Take it one day, one rep at a time."
 
When thinking about any front-runners or surprises throughout camp, Foster expressed how prepared each running back is and how every guy has put in the work before camp.
 
"They work so hard during the offseason," Foster said. "(Strength) coach (Chris) Doyle and his staff do such a good job of getting our guys prepared for the season. There has not been a surprise because that's expected at Iowa. You are tough and you do the little things well."
 
Iowa opens the 2018 season Sept. 1, hosting Northern Illinois at 2:30 p.m. (CT) inside Kinnick Stadium. Tickets are available through the Iowa Athletics Ticket Office at hawkeyesports.com/tickets.