24 Hawkeyes to Watch 2018-19 | Single Game Football Tickets | I-Club Events Page | 2018 Football Fall Camp Central | VIDEO | Tuesday Photo Gallery
By DARREN MILLER
hawkeyesports.com
 
IOWA CITY, Iowa — The University of Iowa football team reached the two-thirds point of fall camp Tuesday and both coordinators and special teams coach LeVar Woods provided a personnel update in the Stew and LeNore Hansen Football Performance Center.
 
Who's the punter? Who's at linebacker? Who's the backup quarterback?
 
Woods, defensive coordinator Phil Parker, and offensive coordinator Brian Ferentz have a better grasp of their respective depth charts after 16 practices, but there is still much to be learned from now until Aug. 31 — the eve of the season opener against Northern Illinois.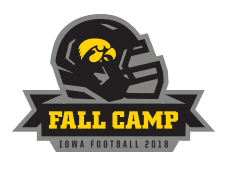 Woods called the punter position "too close to call" with junior Colten Rastetter and sophomore Ryan Gersonde making it an "incredibly competitive" camp.
 
"They have drastically improved from last year," Woods said. "The race is still too close to call, but the good news is, both guys have improved."
 
A year ago, Rastetter punted 55 times for an average of 37.8 yards per punt; Gersonde punted 13 times for a 42.5-yard average.
 
At kicker, senior Miguel Recinos has the most experience after making 11 of 13 field goals and all 44 point-after attempts in 2017. Sophomore Keith Duncan redshirted last season after kicking nine field goals and 38 PATs in 2016. Sophomore Caleb Shudak is also in the running.
 
"The competition there has been stiff as well," Woods said.
 
Woods said senior Kyle Groeneweg, junior Amani Hooker, and sophomore Ihmir Smith-Marsette will return punts, while Groeneweg, Smith-Marsette, and sophomore Ivory Kelly-Martin will return kicks.
 
True freshman Riley Moss from Ankeny, Iowa, has drawn praise from Woods on special teams and Parker on defense.
 
"Whatever position we put (Moss) in coverage, he seems to be a natural finding the ball," Woods said. "He works hard, covers well, and we're eager to see him."
 
"Riley Moss is a guy who is helping us at a couple different spots and I'm sure he is going to be playing special teams," Parker said. "We're moving him around to different spots in the back end between safety and corner, but I think he is a good athlete and has shown good life in there."
 
Parker called the line, with its flexibility and ability to rotate several players, "the strong point of our defense right now."  Senior Parker Hesse is the staple up front and he is joined in the rotation by junior Anthony Nelson, senior Matt Nelson, senior Sam Brinks, junior Cedrick Lattimore, sophomore Chauncey Golston, junior Brady Reiff, and sophomore A.J. Epenesa.
 
"I'm very excited about that," Parker said. "We feel happy with where we're at with the guys we have."
 
Parker added that true freshman Tyler Linderbaum from Solon, Iowa, "is a guy we're thinking about; he is one of those guys inside who can help us."
 
At linebacker, junior Amani Jones has separated himself in the middle. Parker said junior Kristian Welch and freshman Djimon Colbert are at Will and sophomores Nick Niemann and Barrington Wade are "doing a good job outside."
 
Providing depth are senior Jack Hockaday and true freshmen Dillon Doyle (Mike) and Seth Benson (outside).
 
As of Tuesday, the top four Hawkeyes in the secondary are junior Michael Ojemudia, sophomore Matt Hankins, redshirt freshman Josh Turner, and Brents.
 
Ferentz said that in order for the Hawkeyes to be successful on offense, "we need to be able to run the football and we need to do it when everyone knows we're going to do it."
 
Last season Iowa averaged 139.2 rushing yards per game, led by departed seniors Akrum Wadley (85.3 yards per game) and James Butler (44 yards per game). They will be replaced by sophomores Ivory Kelly-Martin, Mekhi Sargent, and Toren Young.
 
"If you look at the way we rushed the football last year, that's not going to be good enough to win at a consistent or championship level in our league," Ferentz said. "If we can't establish the run game from the opening snap of the season until the closing whistle of game 12, it is going to be hard for us to have any sustained success offensively."
 
A factor that should help Iowa's ground game is improved speed on the perimeter featuring Fant, a tight end, and receivers Smith-Marsette and sophomore Brandon Smith.
 
"If you can't threaten the defense vertically down the field, you are going to have issues," Ferentz said. "The easiest way to do that is on the perimeter. You have to have perimeter speed and I do feel we are making progress with guys on the outside who can run and threaten the defense."
 
Ferentz will spend the final eight practices deciding on an eight-person rotation on the line and a six-person rotation at receiver.
 
"Right now we have five (receivers) we feel pretty good about," Ferentz said. "How that rotation shakes out between those guys? It is going to have to be situational or personnel-driven."
 
Ferentz said sophomore Max Cooper, who had no catches but returned a punt 12 yards last season, has entered the top five of the receiver rotation.
 
"Max Cooper has had a good camp and I would feel comfortable saying he is the fifth (receiver) right now," Ferentz said. "From a maturity standpoint, he is a little further along. He has grown physically, too. He has sneaky speed for his physical appearance and he has made progress in the weight room."
 
Ferentz reminded reporters that at this point in 2017, the Hawkeyes were yet to settle on a starting quarterback. Junior Nate Stanley has secured that role once again after throwing for 187.5 yards per game and 26 touchdowns a year ago. The backup battle is between redshirt freshman Peyton Mansell and true freshman Spencer Petras.
 
"We know who our first string quarterback is," Ferentz said. "The picture is becoming clearer every day at that No. 2 battle, but we're going to let it play out a little longer and figure where we are at moving into next week."  
 
Iowa opens the season Sept. 1, hosting Northern Illinois at 2:30 p.m. (CT) inside Kinnick Stadium. Tickets are available at hawkeyesports.com/tickets.