24 Hawkeyes to Watch 2018-19 | Single Game Football Tickets | I-Club Events Page | 2018 Football Fall Camp Central
By RICK BROWN
hawkeyesports.com
IOWA CITY, Iowa — In a back room of the Epenesa home in Edwardsville, Illinois, jersey No. 72 is framed and hangs on a wall.
 
It's a University of Iowa football jersey, one that Eppy Epenesa wore when he lettered for the Hawkeyes as a defensive lineman in 1997.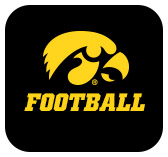 As a youngster, A.J. Epenesa would look at that jersey and think big.
 
"I always thought, 'Maybe one day I'll get that Hawkeye jersey on,'" A.J. says now. "It's pretty cool that I got that dream to come true."
 
A.J. came to Iowa in the fall of 2017 with a world of expectations on his shoulders, and not just because he was a legacy Hawkeye. He arrived as a five-star recruit, and an excited fan base couldn't wait to see this athletically gifted defensive end start to sack quarterbacks.
 
Epenesa saw action in all 13 games as a true freshman. He made the Big Ten's All-Freshman team. But when Iowa's first depth chart was released this spring, Epenesa was listed behind senior Parker Hesse and an outspoken group of fans wondered out loud how that could be.
 
But father knows best. Eppy Epenesa took to Twitter to put out the fire. A.J. still has a lot of learn, Eppy said. Be patient. Parker Hesse is a good football player, a monster player considering his size. A.J. is still learning, and Parker is a great person to learn from. A.J. will get what he earns.
 
Iowa head coach Kirk Ferentz appreciated Eppy clearing the air.
 
"Hawkeye Nation was up in arms," Ferentz said. "His dad understands. (A.J.) has ability. He's a great kid, but he's not a great college football player yet."
 
Ferentz has no doubt that A.J. will make that step. Defensive line coach Reese Morgan agrees.
 
"I think with all players there comes a point in time in their career when the light goes on, and you keep working to nurture and develop it," Morgan said. "In the case of A.J., he has shown improvement. You like him because he's a good person, he's humble, and he cares about people.
 
"He just has to continue to grow and develop in ways on the football field that will help him excel — the speed of the game, playing the run, being consistent, all those kinds of things, which every player on our team has to do."
 
A.J. appreciated his dad stepping up this spring.
 
"My dad knows how this college football works, and depth charts, and all that stuff," A.J. said. "It's not a big deal, because Parker Hesse is definitely a great football player. To learn from him is a great experience for me."
 
That is a mature approach from a young man entering his second season of college football, at a position of strength on this Hawkeye football team. Hesse and junior Anthony Nelson, the other starter, didn't arrive with the recruiting bells and whistles Epenesa did.
 
"Anthony Nelson is a pretty good player right now, but he's a lot better than he was three years ago," Ferentz said. "Anthony didn't come with all the acclaim that A.J. had. Adrian Clayborn didn't come with the acclaim that A.J. had.
 
"Clayborn wasn't a great player his first year. He was a good prospect, but he wasn't a great player. He ended up being OK, and I get that. That's just fans. Everybody wants to know, 'How come this guy is not starting?' Because we have a couple of other players who are pretty good."
 
Instead of letting the hype train run him over, Epenesa is taking a workmanlike approach to practice every day.
 
"I try to stay level-headed, and focus on my business and getting my work done," said A.J., who has added 15 pounds to his 6-foot 5-inch frame and tips the scales at 278. "I keep my head down, with a nose-to-the-grindstone mentality. I'm not worried about what people are saying outside, because I know those things don't matter."
 
Epenesa recorded 15 tackles, 5.5 tackles for a loss, and 4.5 sacks as a Hawkeye rookie.
 
"I think I met my expectations, because I wasn't expecting to play as much as I did," Epenesa said. "The coaches saw my ability, and how hard I worked, and thought I was good enough to play. I know there are a lot of things I have to get better with. The list goes on and on. I'm trying to get better at those things every day."
 
The next step, in Epenesa's mind, is expanding his understanding of opposing offenses.
 
"Seeing the offense, and not just my key," Epenesa said. "Seeing if it's a single-back set, this or that, focusing on those details and trying to pick them out, and filtering through what kind of plays they can run from that set. That will help me be more successful."
 
A.J.'s first Hawkeye jersey was No. 6.
 
"It didn't have a name on it, but No. 6 was Tim Dwight," A.J. said. "That was one of my dad's buddies back then."
 
A.J. grew up a Hawkeye fan because of his dad's experience in Iowa City, but he took notice when blueblood programs started to recruit him.
 
"I liked Iowa, but I also liked some of these places," Epenesa said. "I was interested in a lot of other schools, and made some visits, but I came back home. I had a good feeling about this place, I felt I fit in well, I liked the guys, and felt this would be the best place for me."
 
A place for Epenesa to build his body under strength coach Chis Doyle. A place to take advantage of Ferentz's leadership skills. A place to be coached the right way.  A place for the light to go on.
 
"I love being here," A.J. said.