24 Hawkeyes to Watch 2018-19 | Single Game Football Tickets | I-Club Events Page | 2018 Football Fall Camp Central
IOWA CITY, Iowa — The University of Iowa football team will resume its day-after-Thanksgiving meeting with Nebraska beginning in 2022, as the Big Ten Conference announced the entire slate of Big Ten football schedules for 2022-25 on Wednesday.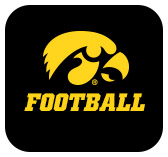 The Hawkeyes will close each of those seasons against the Cornhuskers in the Hy-Vee Heroes Game series, beginning Friday, Nov. 25, 2022, in Kinnick Stadium. The Hawkeyes have closed each season since 2011 against Nebraska on the Friday after Thanksgiving, but will meet Wisconsin on the final weekend of the regular season in 2020 (home) and 2021 (away).
"We are excited to resume the tradition of the Hy-Vee Heroes Game with Nebraska to close our regular season," said Gary Barta, Henry B. and Patricia B. Tippie Director of Athletics Chair. "The Friday game has been well-received on both campuses and the annual recognition of heroes from each state has been a popular program."
The Hawkeyes will play four conference home games in 2022 and 2024, with five Big Ten contests in Kinnick in 2023 and 2025.  Along with its West Division foes, Iowa in 2022 will play Michigan at home and travel to Ohio State and Rutgers. Along with Michigan, Iowa will also host Northwestern, Wisconsin, and Nebraska.
In 2023, Iowa hosts Purdue, Rutgers, Michigan State, Minnesota, and Illinois, while traveling to Wisconsin, Northwestern, Penn State, and Nebraska.
Iowa in 2024 hosts Northwestern, Maryland, Wisconsin, and Nebraska, while visiting Purdue, Rutgers, Illinois, Indiana, and Minnesota.  The 2025 slate includes home games with Ohio State, Illinois, Minnesota, Purdue, and Rutgers, and road trips to Wisconsin, Northwestern, Michigan, and Nebraska.
In addition to the Big Ten schedules, Iowa has agreed to host future nonconference games with Kent State (Sept. 18, 2021), South Dakota State (Sept. 17, 2022), Illinois State (Aug. 31, 2024), and Northern Illinois (Sept. 13, 2025).
Below are Iowa's future schedules through the 2025 season, with additional nonconference opponents in 2022-25 still to be scheduled:
2019
Aug. 31 — Miami, Ohio
Sept. 7 — Rutgers
Sept. 14 — at Iowa State
Sept. 21 — Open
Sept. 28 — Middle Tennessee State
Oct. 5 — at Michigan
Oct. 12 — Penn State
Oct. 19 — Purdue (HC)
Oct. 26 — at Northwestern
Nov. 2 — Open
Nov. 9 — at Wisconsin
Nov. 16 — Minnesota (FW)
Nov. 23 — Illinois
Nov. 29 — at Nebraska
 
2020
Sept. 5 — Northern Iowa
Sept. 12 — Iowa State
Sept. 19 — at Minnesota
Sept. 26 — Northern Illinois
Oct. 3 — Michigan State
Oct. 10 — at Ohio State
Oct. 17 — at Penn State
Oct. 24 — Northwestern
Nov. 7 — at Illinois
Nov. 14 — Nebraska
Nov. 21 — at Purdue
Nov. 28 — Wisconsin
 
2021
Sept. 4 — Indiana
Sept. 11 — at Iowa State
Sept. 18 — Kent State
Sept. 25 — Colorado State
Oct. 2 — at Northwestern
Oct. 9 — Penn State
Oct. 23 — at Maryland
Oct. 30 — Purdue
Nov. 6 — at Nebraska
Nov. 13 — Minnesota
Nov. 20 — Illinois
Nov. 27 — at Wisconsin
 
2022
* — Iowa State
Sept. 17 — South Dakota State
Sept. 24 — at Minnesota
Oct. 1 — Michigan
Oct. 8 — at Purdue
Oct. 15 — at Ohio State
Oct. 22 — Open
Oct. 29 — Northwestern
Nov. 5 — at Rutgers
Nov. 12 — at Illinois
Nov. 19 — Wisconsin
Nov. 25 — Nebraska
 
2023
* — Iowa State
Sept. 23 — Purdue
Sept. 30 — at Wisconsin
Oct. 7 — Rutgers
Oct. 14 — at Northwestern
Oct. 21 — Michigan State
Oct. 28 — at Penn State
Nov. 4 — Minnesota
Nov. 11 — Open
Nov. 18 — Illinois
Nov. 24 — at Nebraska
 
2024
* — Iowa State
Aug. 31 — Illinois State
Sept. 28 — at Purdue
Oct. 5 — Northwestern
Oct. 12 — at Rutgers
Oct. 19 — at Illinois
Oct. 26 — Maryland
Nov. 2 — at Indiana
Nov. 9 — Open
Nov. 16 — at Minnesota
Nov. 23 — Wisconsin
Nov. 29 — Nebraska
 
2025
* — Iowa State
Sept. 13 — Northern Illinois
Sept. 20 — at Wisconsin
Sept. 27 — Ohio State
Oct. 4 — Illinois
Oct. 11 — Minnesota
Oct. 18 — at Northwestern
Oct. 25 — at Michigan
Nov. 1 — Open
Nov. 8 — Purdue
Nov. 15 — Open
Nov. 22 — Rutgers
Nov. 28 — at Nebraska
 
*Contract to be finalized