24 Hawkeyes to Watch 2018-19 | Single Game Football Tickets | I-Club Events Page | Hawk Talk Monthly — June | Sign Up For Season Tickets | Apple App | Android App
Editor's Note: To view exclusive video highlights of this Fight for Iowa Coca-Cola moment, purchase a University of Iowa Hawkeye 16 ounce Coca-Cola can for sale throughout Eastern Iowa, download the Hawkeye Sports App, and select the Xtream HawkVision feature throughout the countdown.
By RICK BROWN
hawkeyesports.com
 
IOWA CITY, Iowa — The University of Iowa's third-ranked football team had already wrapped up the West Division title and a spot in the Big Ten Championship game when it arrived at Memorial Stadium in Lincoln, Nebraska, on Nov. 27, 2015.
 
But there was still work to be done. An undefeated regular season was on the line. So was the first 12-win season in program history.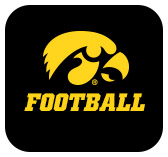 It was a bone-chilling Black Friday, 24 degrees with a north wind blowing at 13 miles per hour. It was so cold that Iowa head coach Kirk Ferentz broke tradition and wore a stocking cap.
 
Early in the second quarter, Ferentz was upset over a missed call.  He let his feelings be known, then took off his stocking cap and threw it.
 
"Now you know why I don't wear stocking caps," he joked.
 
A sellout crowd of 90,830 at Memorial Stadium approved when the officials flagged the Iowa coach for unsportsmanlike conduct.
 
Ferentz was upset that the Cornhuskers had run a play from an illegal formation. Cethan Carter, who was covered up, caught Tommy Armstrong, Jr.'s, pass and advanced it 25 yards to the Iowa 8-yard line.
 
"We saw it from the sideline, we were communicating it and sure enough, they threw to the guy," Ferentz said. "We didn't cover him because he was covered up."
 
Nebraska scored a play later to tie the game, 7-7. But something you may not know was it was a calculated decision by Ferentz to get the penalty.
 
"The ball was inside the 10 when the guy got tackled," Ferentz said. "So a 15-yard penalty is really four yards. I figured at that point it was worth it to let them know. I don't think I would have taken a 15-yarder if it was on the 30."
 
There were several other calculated decisions that led to Iowa's historic 28-20 victory.
 
"It was a great way to finish a fulfilling season," Ferentz said.
 
Senior running back Jordan Canzeri had 17 carries for 140 yards in his final regular-season game. Two of those carries had a huge impact in the victory.
 
"I think they were both the same call," Ferentz said. "Both to the left."
The first resulted in a 29-yard touchdown run that gave the Hawkeyes a 21-10 lead early in the third quarter. The second was a 68-yard touchdown run on Iowa's next possession to make it a 28-17 advantage.
 
Canzeri's second score was the first play of a drive that almost didn't happen. Riley McCarron had fumbled the kickoff after a Nebraska touchdown, but Desmond King recovered.
 
"Nothing smooth there," Ferentz said.
 
A Nebraska field goal with 1:17 remaining made the score 28-20, and there was one more job to do before celebrating the fifth perfect season in school history and first since 1922: recover the onside kick.
 
"Onside kicks are precarious," Ferentz said. "You never feel comfortable. You feel good on one end because it probably means you're leading, but it's always such a crazy play."
 
The ball went to sure-handed Henry Krieger Coble, who covered it up to put the bow on a 12-0 regular season.
 
"Henry was money in the bank," Ferentz said.
 
Iowa's players celebrated on their way to the locker room. One of them, senior linebacker Cole Fisher, had made his first career interception and finished with a team-best 11 tackles. His dad, Todd, and brother, Sean, both played for the Cornhuskers.
 
"I think that had to be pretty special for him," Ferentz said.
 
The 2015 season was special for a lot of reasons.
 
"When you look back on it, it wasn't the biggest senior class and it was our least senior-worthy NFL class," Ferentz said.
 
Center Austin Blythe was the only player to hear his name called in the 2016 NFL Draft. He went to the Indianapolis Colts in the seventh round. Of the 253 players drafted that year, he was the 248th.
 
It was just the third time only one Hawkeye has been selected since Ferentz became head coach in 1999. Wide receiver Kevin Kasper went to Denver in the sixth round, the 190th player selected, in 2012.  Defensive back Micah Hyde went to Green Bay in the fifth round, the 159th player selected, in 2013.
 
"If you went just on draft status of NFL senior classes, it (2015) was our least talented class that way," Ferentz said. "What they did collectively was so valuable. We had a lot of good college players in that group and they did a heck of a job. There were a lot of good leaders."
 
It was a team, in the truest sense.
 
"We didn't have a lot of star power, but the guys played well together and they would find a way week-to-week to win," Ferentz said. "Nobody could score up at Wisconsin (a 10-6 victory) and then against Minnesota, nobody could get a stop (a 40-35 victory)."
 
Iowa would go on to lose to Michigan State, 16-13, in the Big Ten title game the next week.
 
"We go undefeated, the first time I've been around a team that did that," Ferentz said. "I got more compliments, from friends of mine nationally, about losing in the championship game. It was such a hard-fought game, and everybody who saw it on TV had the same feeling.
 
"It's funny how things go sometimes; not that it makes it any easier. It was one heck of a game."
 
And one heck of an historic season.