24 Hawkeyes to Watch 2018-19 | Single Game Football Tickets | I-Club Events Page
By RICK BROWN
hawkeyesports.com
 
IOWA CITY, Iowa — Toren Young didn't have a carry in the first half of the University of Iowa's 33-7 victory over Northern Illinois on Saturday and it wasn't by design.
 
"We wanted to play all three guys," said Iowa head coach Kirk Ferentz. "We just couldn't get there, but it worked out OK."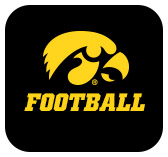 Sophomore Ivory Kelly-Martin had nine carries in the season's first 30 minutes against the Huskies and Mekhi Sargent got seven. Young was a cheerleader.
 
"My job is to play when my number is called," said Young, a 5-foot, 11-inch, 221-pound sophomore. "When it's not called, my job is to support the other guys."
 
As he got ready to take the field for the second half, Young had an idea he might get his number called.
 
"The coaches said, 'Just be ready to go,'" Young said.
 
On the Hawkeyes' second possession of the third quarter, holding a precarious 3-0 lead, Young got his chance. On the third play, Young got his first carry of the season. It was an outside zone play to the left, and Young went for 40 yards to the Northern Illinois 12.
 
Young jumped up, then swung his arms in the air after being knocked out-of-bounds.
 
"I was just happy to be back out there with the guys," Young said. "I'm an emotional player. I was excited and happy for the team."
 
That was the big play in a seven-play, 58-yard drive that gave the Hawkeyes a 10-0 lead. On their next possession, Young had a 24-yard run on a similar outside zone play that gave his team a first-and-goal at the 10. Three plays later, the lead was 17-0.
 
Young made a nifty cut and scored on a 6-yard run up the middle on Iowa's first possession of the fourth quarter, and victory No. 1 was in the books.
 
Young finished the game with a team- and career-high 84 yards. He did it in just eight carries, a 10.5 average.
 
"I'm not too concerned about that," Young said of his glossy average. "I'm happy we got the win."
 
Ferentz has been saying for weeks that this will be a three-man running back rotation. Nothing's changed his mind. Young is a major part of that approach.
 
"He's a hard, physical guy and he plays to his strengths," Ferentz said. "That's what he'll give us. We, as a staff, look at all three of those guys as prominent guys on our team. I envision us having a rotation and playing all three. He has to run physical, and he did that today. That gave us a spark."
 
Young, who had 45 carries for 193 yards and two touchdowns as a redshirt freshman last season, sounded like a veteran back Saturday. He credited the offensive line for his success.
 
"It all starts up front," Young said.
 
He embraces his reputation as the Hawkeyes' power back.
 
"I wish I was a little faster," he admitted.
 
But he made a few jukes on his long third-quarter runs, and then there was that cut up the middle on his third career touchdown. A power back with some elusiveness, perhaps.
 
"If he can do that without getting too smart or too cute, I'm good with that," Ferentz said.
 
On Saturday, Young showed his value by providing his team a second-half lift.
 
"I try to have an edge, an attitude when I run," Young said. "I didn't know when I would get my shot, but I just wanted to be prepared when I did."
 
Iowa returns to action Sept. 8, hosting Iowa State in an Iowa Corn Cy-Hawk Series matchup inside Kinnick Stadium.  Kickoff is set for 4 p.m. (CT).