Request 2018-19 Season Tickets | 2018-19 Iowa Basketball Schedule | Big Ten Composite Schedule | Fight For Iowa
By BAILEY TURNER
hawkeyesports.com 
IOWA CITY, Iowa — From 2009 to 2013, Eric May had an impressive University of Iowa basketball career that will always be remembered as the beginning of the Fran McCaffery era.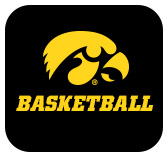 During May's time as a Hawkeye, he never played in the NCAA Tournament, but he helped re-establish the program. Iowa competed in three straight NCAA Tournaments after May's graduation in 2013.
 
Following his playing career, May began working in accounting in Madison, Wisconsin, for a few years, but he has since returned to his hometown of Dubuque, where he works at American Trust in Strategic Wealth. May prepared himself for life after basketball by earning a degree in accounting, while being a three-time Academic All-Big Ten honoree.
 
While the beginning of May's collegiate career was unsettling with a coaching change between his freshman and sophomore season, May's commitment to the program never wavered.
 
"I knew where I wanted to be," he said. "I wanted to be a Hawkeye."
 
"Eric was all-in from the minute I got here," said McCaffery. "From the very beginning, I could count on him. Eric had the respect of his teammates and was a pleasure to coach."
 
May was a walking highlight as a Hawkeye, throwing down dunks that often times would land on SportsCenter's Top 10. May says two of his favorite dunks occurred in a 64-63 victory at Indiana during his sophomore year, which was McCaffery's first Big Ten road win.
 
"Bryce (Cartwright) and I connected on two half-court alley-oop dunks in a span of a couple minutes in that game," May said. "Bryce knew what to look for, it was basically like a post route every time."
 
Iowa's record improved during each of May's final three seasons, which included advancing to the NIT Championship game as a senior. The Hawkeyes hosted their first two NIT games that year, something May will never forget.
 
Carver-Hawkeye Arena was rocking with the Hawkeyes winning both contests by comfortable margins. Some fans may even remember May giving McCaffery an emotional hug as he walked off the court for the final time in Iowa City in front of a raucous crowd.
 
"It was emotional and rewarding to see how far we had come," said May. "Carver was slammed and it was extremely loud for those two NIT games."
 
One game that stands out during his career was when the Hawkeyes defeated Virginia in Charlottesville in the 2013 NIT Quarterfinals.
 
"We weren't phased by anything at that point," said May. "We were focused. When your entire team doesn't miss a free throw that shows how comfortable and confident we were with what we had to do."
 
May's college basketball career ended inside Madison Square Garden in New York. The Hawkeyes went on to defeat Maryland by double figures before falling to Baylor in the NIT title game.  Iowa's win total improved by 15 wins from May's freshman to senior year.
 
Aaron White, who was May's teammate in 2012 and 2013, praised May for his work ethic and leadership.
 
"He's a great dude and represented what Iowa is all about," said White.
 
May remains in contact with a number of his teammates and returns to Carver-Hawkeye Arena a couple times a year to watch the new wave of Hawkeyes.