I-Club Events Page | 24 Hawkeyes to Watch 2018-19 | Single Game Football Tickets | Hawk Talk Monthly — September | VIDEO — Michael Titley | 1989 Iowa State Box Score | 1990 Iowa State Box Score
By DARREN MILLER
hawkeyesports.com
IOWA CITY, Iowa — Nearly 28 years ago, on Sept. 22, 1990, a University of Iowa tight end named Michael Titley hauled in the first touchdown of his collegiate career. It was against Iowa State in a game the Hawkeyes won, 45-35, for their eighth consecutive victory in the series.
 
Titley has returned to Iowa City and the Iowa Corn Cy-Hawk Series. As Iowa's honorary captain, he addressed the Hawkeyes on Friday afternoon in the Stew and LeNore Hansen Football Performance Center, telling them to enjoy every minute, not just of this rivalry game, but for their tenure as Hawkeyes.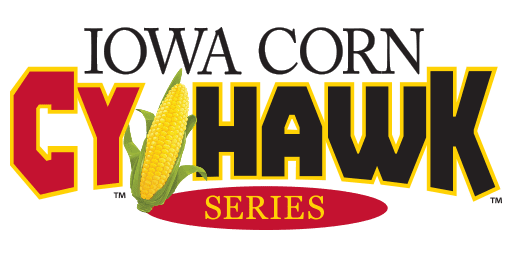 "Suck it all up, breath it, eat it, chew it, swallow it," Titley said. "Take it all in because it is not something to take for granted. There are so many kids who would die to be in a situation to play at the University of Iowa. To play college football in front of these fans; so many times we find reasons to make excuses or not give 100 percent, then all of a sudden, that five-year window is over."
 
Titley, a native of Brooklyn, New York, joined the Hawkeyes after two seasons at Nassau Community College in Garden City, New York. Iowa tight end Marv Cook graduated in 1988, Titley arrived the next season.
 
He listed several reasons why coming to Iowa made sense.
 
"I wanted to leave New Yok City and go far away from home to become an adult and a man and not be within three or four hours of New York City where I'm driving home every weekend in the same environment," Titley said.
 
There were also numerous Hawkeyes from the New York/New Jersey area: LeRoy Smith, Phil Bradley, Rod Davis, Larry Blue, and Moses Santos.
 
"Leaving New York City for the middle of the country, some place I hadn't had been before and being far away from home at the same time, is something I wanted to do," Titley said. "That's the way you grow, being uncomfortable, and I did it."
 
Titley remains close to many of his former teammates, talking to several daily and getting together with others up to 10 times a year.
 
"You share these experiences with them, being in classes with them, training table," Titley said. "You do so much together, you can trust them. We all have the same common goal — we want to get our degrees, play football, have fun, and be productive and good citizens."
 
Nothing was keeping Titley from earning his bachelor of liberal studies degree…18 years after leaving Iowa for the NFL. After being with the Dolphins, Colts, Vikings, Bills, and Broncos, as well as playing in the World League of American Football, Titley finished his degree. His wife, Themba Aikens, a Hawkeye volleyball player, had a degree and Titley was going to follow.
 
"With me having two young kids, I said I have to get my degree because I don't want them having any excuses why they can't get theirs," Titley said. "A buddy of mine, Bill Perkins, said kids that have two parents with their college degrees are 85 percent more successful than parents who don't. My wife had her degree, so I had to get my degree."
 
Titley was on the winning end of both Iowa Corn Cy-Hawk Series games during his career: 31-21 in 1989 in Ames, Iowa, and the game as a senior when he caught four passes, including a 7-yarder for the first score.
 
Saturday's game will kick off at 4:05 p.m. (CT); it will be televised on FOX with Tim Brando, Spencer Tillman, and Holly Sonders on the call. The game is sold out.