24 Hawkeyes to Watch 2018-19 | Hawk Talk Monthly — September
By SHANE STURTZ
hawkeyesports.com
IOWA CITY, Iowa — The 1986 National Championship. The 11 NCAA Final Fours. The 12 Big Ten Conference Championships. The 90 All-Americans. The six Olympians.
 
The tradition of excellence.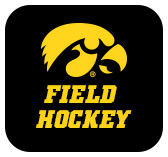 All of that and more will be honored during the University of Iowa field hockey team's Alumni Weekend on September 14-16 at Grant Field. The celebration will culminate with Alumni Day at Grant Field on Sept. 16 when the Hawkeyes face off against Big Ten-foe Indiana.
 
Four teams — the 1983, 1988, 1993, and 2008 teams — will be celebrated for the landmark milestones they laid for the Hawkeye field hockey program.
 
"Our tradition speaks for itself and 2018 marks four very special anniversaries that we will celebrate over the course of the weekend," said head coach Lisa Cellucci, a three-time All-American and Iowa's all-time saves leader.
 
"Beyond all of the Final Fours and Big Ten Championships, what has always made our program special is the people. The people who built Iowa field hockey into a powerhouse program, and all those who have worked tirelessly to maintain and grow the tradition of excellence, which has been our hallmark for over 35 years."
 
Grit, hard work, and perseverance as well as the remarkable accomplishments will be on full display on Alumni Day. An astounding 70 women will return to Iowa City to relive the moments and tradition that can still be seen today. Honored alums ranging from the early 70s to 2017, many of whom were recognized nationally during their playing days.
 
Five Olympians, six Honda Broderick Nominees, seven Big Ten Players of the Year, and 38 national All-Americans will step foot onto Grant Field to look back at what they built.
 
"It has been some time since we've had an event of this magnitude with so many alumni back on campus," Cellucci said. "It will be a great opportunity for the current Hawkeyes to get to know the women that have paved the way for them and see firsthand why it is such a privilege to be a part of the Iowa field hockey program. These women have set the standard for our current and future Hawkeyes by always representing themselves and our program with integrity and by continuing to make a meaningful contribution to the world after graduation."
 
Senior defender Isabella Brown has seen and heard how the tradition of excellence formed as well as the banners that surround Grant Field, but playing in front of former Hawkeyes during Alumni Weekend is something she plans to relish.
 
"It's going to be exciting," Brown said. "They are going to come out and watch, so you want to prove that we've been following in their footsteps and we're continuing to play at a high level."
 
The Iowa field hockey team will take on Penn on Friday at 2:30 p.m. (CT), before opening Big Ten play against Indiana on Sunday. Admission is free.