24 Hawkeyes to Watch 2018-19 | I-Club Events Page | Single Game Football Tickets | Apple App | Android App | Hawk Talk Monthly — June | Sign Up For Season Tickets
Editor's Note: To view exclusive video highlights of this Fight for Iowa Coca-Cola moment, purchase a University of Iowa Hawkeye 16 ounce Coca-Cola can for sale throughout Eastern Iowa, download the Hawkeye Sports App, and select the Xtream HawkVision feature throughout the countdown.
By RICK BROWN
hawkeyesports.com
 
IOWA CITY, Iowa — There's something about Kinnick Stadium under the lights.
 
"Night games in Kinnick are special," University of Iowa head football coach Kirk Ferentz said.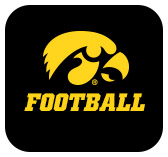 One of those memorable nights was a Sept. 19, 2015, game against Pittsburgh, one that started with emotion and ended in celebration.
 
Former Iowa defensive back Brett Greenwood, fighting his way back from a 2011 brain injury, was honorary captain and led the team onto the field with the aid of a walker. His friend and former Iowa teammate, Pat Angerer, and Hawkeye strength coach Chris Doyle, escorted Greenway at the front of the Swarm. The crowd gave Greenwood a standing ovation.
 
"That was very special," Ferentz said. "And very moving."
 
Angerer, who played four NFL seasons with the Indianapolis Colts and wore Greenwood's No. 30 Hawkeye jersey that night, put the moment in perspective.
 
"Never would you think that your greatest moment on the field would be when you're done playing," Angerer said. "That was amazing."
 
The night ended in spectacular fashion, when Marshall Koehn tied a Kinnick Stadium record with a 57-yard field goal on the game's final play for a 27-24 victory.
 
 "That was a good team we played," Ferentz said. "They were a tough team and well coached."
 
The Hawkeyes scored the first 10 points of the game, on a 43-yard Koehn field goal and quarterback C.J. Beathard's 9-yard run. Iowa took a 17-7 lead into halftime after Jordan Canzeri's 4-yard touchdown run in the final minute.
 
Iowa would never surrender that lead, but the Panthers rallied to tie the game in both the third and fourth quarters.
 
The game was knotted, 17-17, when Pittsburgh's Pat Amara returned a blocked punt 28 yards for a third-quarter touchdown. Canzeri's second touchdown run, from 1-yard out, gave Iowa its one-touchdown lead back with 6:04 to play.
 
Kinnick was rocking when Nate Meier sacked Pittsburgh quarterback Nate Peterman for a 6-yard loss with 90 seconds left.
 
But, faced with a fourth-and-15 from the Iowa 27, Peterman let the air out of Kinnick when he found tight end J.P. Holtz for an 18-yard gain. After an incompletion, Peterman threw an 8-yard touchdown pass to Tyler Boyd to tie the game with 52 ticks left.
 
That was the 10th catch of the game for Boyd, good for 131 yards. In Iowa's 24-20 victory against the Panthers at Heinz Field in Pittsburgh the season before, Boyd had 10 catches for 153 yards.
 
"We couldn't cover him, for whatever reason," Ferentz said. "He's with the (Cincinnati) Bengals now. If he played us every week, he would be an All-Pro. He was a good player."
 
With less than a minute to play and the prospect of overtime hanging in the Kinnick air, the Hawkeyes had different ideas.
 
Desmond King returned the kickoff 27 yards to the Iowa 30. Five plays later, which included Beathard runs of 12 and seven yards, the Hawkeyes faced a third-and-10 from the Pittsburgh 47.
 
Beathard, who completed 27-of-40 passes for 258 yards, had been a target of the Panthers' blitz-heavy defense all game. But he had one more big play left in him. Beathard took the snap with eight seconds left, ran to the left sideline and dove to the turf with two seconds remaining so Iowa could use its final time out. That put the ball on the Pittsburgh 39.
 
"That was a good play by a good player," Ferentz said. "It was representative of the way he played football. He knew what was going on out there. That ended up being a huge play, because it gave us an opportunity. He was thinking about that play well before that instant. He had a mental clock going on that one. He knew where he was."
 
Ferentz knew Koehn had the leg to make it from 57 yards. In truth, he was more concerned about Boyd standing under the goal post, ready to return the kick if Koehn came up short. Pittsburgh coach Pat Narduzzi sent Boyd out there after calling time out to try to freeze Koehn.
 
"That was the only fear in my mind, a return if he came up short," Ferentz said. "No team is good at covering field goals. I'm thinking, 'I just hope it doesn't land in his hands because we've had back luck with him.'"
 
Boyd stood under the goal post, then put his hands on his hips as Koehn's kick split the uprights and sent Kinnick into a frenzy.
 
Greenwood celebrated with the Iowa players and coaches in the locker room after the victory.
 
Greenwood had meet with the team Friday, an honorary captain tradition. Ferentz was touched that some of his former teammates, including Angerer, Tony Moeaki, A.J. Edds, and Brett Morse, had come on their own to join him.
 
"The investment the players have in each other," Ferentz said. "Beyond the wins and losses and trophies and rings and all that stuff. Winning is OK, too. But that's the stuff that lasts. Those guys will have relationships their whole lives, which is neat."
 
Ferentz also touched on the role Angerer has played in Greenwood's comeback.
 
"Behind the scenes, what Pat has done for Brett, remaining close and being a motivating factor in his life, that's the best thing about this sports thing," Ferentz said.
 
The coach looks forward to another special Kinnick moment down the road.
 
"Chris (Doyle) has told me there's going to be a day when Brett can get out there without assistance," Ferentz said. "That's the next one we're working on."