24 Hawkeyes to Watch 2018-19 | Hawk Talk Monthly — September | I-Club Events Page | Single Game Football Tickets
By JAMES ALLAN
hawkeyesports.com
IOWA CITY, Iowa — The next game is the biggest for the University of Iowa football team and that is the case and then some leading into Saturday's game — a primetime matchup against No. 16/18 Wisconsin.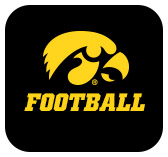 The Hawkeyes host the Badgers at 7:35 p.m. (CT) inside Kinnick Stadium.  Iowa has won six of its last seven and 10 of its last 12 home night games, but the Hawkeyes haven't beat the Badgers in Iowa City since 2008.
 
"We know it's going to be an electric environment and as soon as we step off the bus Saturday night, it's going to have a little different feel than the first three games just because of the stakes and the opponent," said senior Jake Gervase.
 
"It's something we get excited for, but it doesn't change our preparation. We will come out and practice hard this week, prepare in the film room, and make sure we're ready to go when the ball is kicked at 7:30 p.m."
 
Last season's battle for the Heartland Trophy was a one-sided affair at Camp Randall Stadium when the Badgers won their second straight in the series with a 38-14 triumph.  Wisconsin kept Iowa's offense out of the end zone (Iowa scored two defensive touchdowns) and limited the Hawkeyes to just 66 yards.
 
"They out-played us in all phases — offense, defense, and special teams," said Gervase. "They played well and we weren't ready to go. That's something we have to change.  We have to get ready for a fist-fight in all three phases."
 
The 2017 result still lingers.
 
"We still have the sour taste, but it's a new year and none of that is going to help us Saturday night," said senior fullback Brady Ross. "It's like bulletin board material, you can put it up all you want, but once the ball is kicked it isn't going to help you.  What's going to help is details, fundamentals, and out-working them.  (Wisconsin) is a tough group to out-work."
 
Wisconsin has been a model of consistency over the past five years, winning 83 percent of its Big Ten games. The Badgers have won 15 straight regular season Big Ten contests dating back to the 2016 season and the program has won four of the last five Big Ten West Division titles.
 
"Someone mentioned to me that (Wisconsin) has had (Iowa's) number as of late," said Ross. "If you ask me, they have had had everyone's number as of late.  They're a good football team and good program.  If you go down the list and check the boxes, they have it all.
 
"We're looking forward for the opportunity to play a championship-level football team."
 
The 2018 Heartland Trophy matchup features a Wisconsin offense that averages 33.3 points and 285 rushing yards against an Iowa defense that surrenders eight points and 42 rushing yards per game. 
 
On the flipside, Iowa's offense averages 28 points and 389.3 yards per game, while Wisconsin's defense gives up 13.7 points and 275.7 yards.
 
"We know what they're going to do offensively, and they know what we're going to do," said Gervase. "We're both known for stingy, tough defenses.  We're similar in what we like to do on both sides of the ball.
 
"It's going to come down to who plays tougher and smarter and who comes out ready to go."
 
Saturday's game, which is sold out, is the eighth annual America Needs Farmers game. It is also the Black & Gold Spirit Game to stripe Kinnick Stadium.