Hawk Talk Month – September | 24 Hawkeyes to Watch 2018-19 | Hawkeye Fan Shop — A Black & Gold Store – https://hawkeyefanshop.com/?utm_source=HawkeyeSports&utm_medium=HawkeyeSports&utm_campaign=HawkeyeSports
By BRANDEE BRITT
hawkeyesports.com
IOWA CITY, Iowa — It has been three years since the University of Iowa women's golf team hosted a true home tournament. The drought ends today as the Hawkeyes welcome eight teams to Finkbine Golf Course for the Diane Thomason Invitational.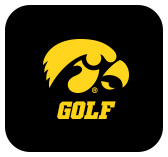 While the Hawkeyes have hosted tournaments in Puerto Vallarta, Mexico, in each of the last two seasons, Iowa is reaping the benefits of hosting a tournament on its own turf.
 
"I had forgotten how nice it is to be here all week and sleep in our own bed," eighth-year head coach Megan Menzel said. "We are excited to be home."
 
Iowa took the team and individual title at the 2015 Diane Thomason Invitational, carding a 54-hole total of 888 (298, 300, 290). Former Hawkeye Jessica Ip took medalist honors with a three-round total of 212 (-4), posting rounds of 70, 69, and 73.
 
Then freshman and now senior captain Kristin Glesne made her collegiate debut, tying for 29th overall with a 17-over-par 233 with rounds of 75, 78, and 80.
 
"I am excited to have a tournament back at Finkbine," said Glesne. "I have good memories from the last one. It was my first tournament, we won, and that was a cool experience. I'm happy to do it again."
 
Fellow senior and team captain Shawn Rennegarbe awaits her first colligate tournament at Finkbine. The Addieville, Illinois, native transferred from Arkansas in 2016.
 
"It's exciting to be home, because we know a lot of our families are coming out," said Rennegarbe. "We hope to have a lot of fans come out, too. It'll be fun to have everybody in the same spot. I've never had the opportunity to play at Finkbine in a tournament, so it'll be fun."
 
After disappointing finishes in their first two tournaments, the Hawkeyes look to bounce back and defend their home turf this weekend.
 
"The team goal is to come out and defend our home course and win the event," Menzel said. "We've done a good job this last week of focusing on what we need to work on. We want to go out and see a lot of personal bests this weekend. If we do that good things will happen."
 
For Rennegarbe, the bounce back starts with bringing the energy.
 
"We are focused on bringing a good energy every day of the tournament," said Rennegarbe. "We are all working hard right now. When all the Hawkeye fans come out and make this one a fun one, it will be a good kick start after our last few tournaments."
 
The Hawkeyes tee off at 9 a.m. (CT) Saturday morning. The Iowa lineup includes freshman Manuela Lizarazu, Rennegarbe and Glesne, freshman Dana Lerner, and sophomore Brett Permann. Junior Sophie Liu and sophomores Stephanie Herzog, Rachel Fujitani and Annalee Dannegger will compete as individuals.