24 Hawkeyes to Watch 2018-19 | Hawk Talk Monthly — September | I-Club Events Page | Single Game Football Tickets
By JAMES ALLAN
hawkeyesports.com
IOWA CITY, Iowa — Ivory Kelly-Martin models his running style after a college and professional football Hall of Famer.
 
The University of Iowa sophomore running back grew up emulating a 12-year NFL veteran, who finished his career as one of two players in NFL history to amass 12,000 yards rushing and 6,000 yards receiving.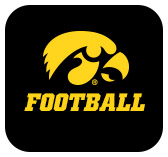 "One of my favorite running backs is Marshall Faulk," said Kelly-Martin. "I try to be an all-around running back. I want to be physical while being able to hit a hole fast, have a strong burst, and be effective in the passing game as much as I can."
 
Kelly-Martin returned from an ankle injury Sept. 22 to rush for 72 yards on 14 carries in Iowa's loss to No. 18/16 Wisconsin. The Hawkeyes averaged 4.7 yards per rushing attempt against the Badgers with Kelly-Martin receiving a bulk of the carries.
 
"We have been coming together as a team (in the rushing attack)," said Kelly-Martin. "Last week (against Wisconsin), we were all contributing as much as we could. For us to have all three backs back, you will see that a lot more.
 
"One of our biggest goals is to establish the run game early and often. We're going to continue doing that, that's the Iowa way."
 
Kelly-Martin is one of three Iowa running backs at least 130 rushing yards this season. He ranks third on the team with 134 yards on 30 attempts in two games. In the passing attack, Kelly-Martin has one catch for seven yards and Iowa's running backs have four catches for 64 yards.
 
"The coaches know they have to get the running backs involved in the next eight weeks," said Kelly-Martin. "We're trying to improve every week. If we can get the ball to the running backs as a threat in the passing game, it will help us do a lot of things."
 
In the last two games, Iowa has averaged 474.5 yards of total offense, including 174.5 on the ground. While promising, senior offensive lineman Keegan Render says the unit can't become complacent.
 
"We had had two pretty good weeks offensively, but when we look back on film, there are plays that we left out there," said Render. "Going through the bye week, we want to make sure we don't take any steps back.
 
"We don't want to get too comfortable, saying, 'Yeah, we ran the ball well, averaging 4.5 yards. What about if it had been 4.8 or five yards?' It is realizing there is always room for growth. We're young at some spots, so we have to keep bringing guys along."
 
One of those guys is Kelly-Martin. He is Iowa's top running back, but he's a player who is preparing to go into his first Big Ten stretch of playing eight league games on eight consecutive Saturdays.
 
"When you're on the field, you're going to try to play lights out every play," said Kelly-Martin. "The biggest thing is doing everything you can to recover. When the game is over, get your rest, get food in you and fuel your body as much as you can. You have to get in the training room to get ready for the next week."
 
The next week is a road game at Minnesota in a battle for the traveling trophy Floyd of Rosedale. Kickoff is set for 2:30 p.m. (CT) from TCF Bank Stadium in Minneapolis. The game will be televised on BTN with Brandon Gaudin, Glen Mason, amd Elise Menaker on the call.