Hawkeye Fan Shop — A Black & Gold Store | 24 Hawkeyes to Watch | Fight For Iowa
Daniel Swanepoel is a sophomore on the University of Iowa swimming and diving team, returning as a standout in the 100 breaststroke. The Cape Town, South Africa, native currently sits third in the Iowa record books, and is set to make a large splash this year. 
You have a strong schedule this year, what goals does the team hope to accomplish?
"Making a bigger splash this year is important for us as we make our way up the rankings and hopefully become one of the top teams in the Big Ten. Continuing on our success from last year is a great place for us to start."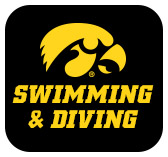 How has the team transitioned from last year to this year?
"We're looking good as a team this year. We have some great guys in as freshmen and we kept a lot of key people like our strong freestylers, backstrokers, and breastrokers. It should be interesting to see how we all perform."
What has your experience been like as an international student-athlete?
"It has been smooth. When I got here people were so welcoming and I adapted to the little cultural things quickly. Being around swimming helped me get accustomed to the country as well by making a lot of friends."
How have the other international swimmers helped you personally and how has it helped the success of the team?
"Having a diverse team helps us see what training styles are like around the world and it gives us a new perspective on what we're doing here. It also creates a lot of competition in practice to see who's fastest. We can get a lot more out of training that way, and it helps with our meet performances."
What has been your favorite memory surrounding the team?
"Going to the Big Ten Championships was cool for me. Being with the entire team and seeing us grow was amazing. I never thought that I would be able to grow as much as I did in only one year on the team. "
What is your best advice for this year's freshman?
"Be consistent with the small things, pushing off the wall just a little bit harder can make all the difference in the long run."
What is the best advice you were given by a coach?
"To be consistent again. When you do more every single day you will be better off later on, whether it's in the pool or elsewhere. Having good habits will pay off for you and help you do to more."
Who has been the most influential person you experienced since you came to Iowa?
"I look up to all the guys who train hard and I follow by their example. Guys like Michael Tenney, who trains like machines and have high intensity, always motivate me in practice."
What made you choose Iowa?
"I wanted a balance between academics and swimming and Iowa provided a great balance for me. When it came to swimming, I wanted to be part of the push to make our program better and better to achieve that higher ranking. I liked the people and the facility when I came on my visit."
If not swimming, what other sport would you enjoy the most?
"I like American Football a lot because it's so physical. Playing in a stadium like Kinnick would be awesome."
What do you do to prepare before meets?
"I try to get the right amount of sleep and keep my sleeping pattern, as well as eating a quality meal a couple hours before my race."
What is your favorite place to be on campus?
"I frequent Bread Garden a lot."
Favorite meal?
"My mom's Sunday roast with lamb and vegetables always sounds good to me."
Favorite Movie?
"Shawshank Redemption."
Favorite Book?
"The Slight Edge."