Hawk Talk Monthly — October 2018 | 24 Hawkeyes to Watch 2018-19 | I-Club Events Page | Single Game Football Tickets
By DARREN MILLER
hawkeyesports.com
MINNEAPOLIS — By ground, through the air, and via kick return, University of Iowa sophomore Ihmir Smith-Marsette reached an all-purpose milestone Oct. 6 during a 48-31 victory over Minnesota inside TCF Bank Stadium.
 
With 83 kick return yards, 78 receiving yards, and six rushing yards, Smith-Marsette established a season-high by any Hawkeye with 167 all-purpose yards. It is the most since Akrum Wadley compiled 283 in the New Era Pinstripe Bowl win over Boston College on Dec. 27, 2017.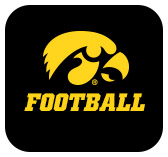 "I like being out there contributing to the team any way," Smith-Marsette said. "It's all fun to me. Knowing you contribute to the team's success in various areas feels good."
 
Smith-Marsette, who was also recruited by Minnesota, finished Saturday's game with three receptions for 78 yards and a touchdown. His big gainer was a 60-yard touchdown completion from quarterback Nate Stanley on a broken play that put Iowa ahead 14-0 in the first quarter.
 
"It shows my confidence has increased from last year and I feel better," Smith-Marsette said. "It also shows how much I have been working to put myself in positon for Nate to look toward me. It's great to know I took a step forward from last year."
 
Last season, Smith-Marsette caught 18 passes for 187 yards and two touchdowns. Through four games this season (he did not play against Northern Iowa), he has 10 catches for 209 yards — nearly doubling his yards per catch average.
 
After the win over the Gophers, the 6-foot-1, 175-pound receiver from Newark, New Jersey, was hard on himself for a dropped pass that would have given Iowa a first down.
 
"I don't want people to think I can't catch; I took my eye off the ball for a second, thinking about making a play before I actually had the ball in my possession," Smith-Marsette said. "It was one of those things, but my confidence level has taken a tremendous step, jump, hop, and skip forward."
 
Entering the game at Minnesota, the Hawkeyes had a total of 46 yards on kick returns. Smith-Marsette returned two for 83 yards Saturday, with a long of 49.
 
"Ihmir made a couple big plays, the broken coverage where he came out of it was a big play (for a touchdown)," Iowa head coach Kirk Ferentz said. "(Minnesota) grabbed momentum a couple times and to get the ball at midfield (on a kick return) and do something with it was important. It was a great effort on his part."
 
Nine plays after Smith-Marsette's long kick return, the Hawkeyes scored on a Stanley-to-Noah Fant 5-yard completion to go on top, 38-14.
The kick return was Smith-Marsette's favorite. For the season, he averages 36.7 yards on three returns. He returned four kicks for an average of 33.5 yards as a true freshman in 2017.
 
"I'm fearless and I don't like fair-catching," Smith-Marsette said. "I wanted to take the others out (of the end zone), too, but I took a knee. I feel I can go out and make an electric play and put the offense in a great starting position to push the ball down the field and eventually score a touchdown."
 
His longest kick return is officially 74 yards set last season at Nebraska, when a touchdown was called back because of penalty. The one against the Gophers was nearly as exciting. Smith-Marsette said after catching the ball, he saw two Minnesota players coming fast, but they were "wiped out" by blocks from Brady Ross and Austin Kelly. Also delivering key blocks were Nate Wieting, Amani Jones, and Geno Stone.
 
"Obviously the other guys are blocking, but Ihmir did a nice job, too, that is usually the case with returns," Ferentz said.
 
Smith-Marsette saw a crease to his left and sprinted up Iowa's sideline. He cut right across the field toward daylight and had one Gopher to beat. He wants to be clear that the one Gopher to beat was not kicker Emmit Carpenter.  
 
"It wasn't the kicker," Smith-Marsette emphasized. "It was the safety (Jacob Huff). The starting safety. He dove at my legs and got my left one."
 
Smith-Marsette will have more all-purpose opportunities Oct. 13 when the Hawkeyes (4-1 overall, 1-1 Big Ten) play at Indiana (4-2, 1-2) in Memorial Stadium in Bloomington, Indiana. Kickoff is set for 11 a.m. (CT); the game will be televised on ESPN2.