24 Hawkeyes to Watch 2018-19 | Hawk Talk Monthly — October | I-Club Events Page | Single Game Football Tickets
By HANNAH OSSMAN
hawkeyesports.com
IOWA CITY, Iowa — University of Iowa quarterbacks coach Ken O'Keefe returned for his second season in 2018 after a five-year stint in the National Football League with the Miami Dolphins.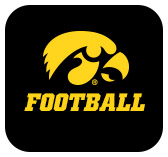 O'Keefe previously coached under head coach Kirk Ferentz for 13 seasons, and it wasn't a hard sell to return.
 
"When you get a call from a coach like Kirk Ferentz, who has been a great friend and colleague for a long time, since the late '70s, you pick the phone up and you listen," O'Keefe said. "He's a hard guy to say no to. Iowa City is a great place. The University of Iowa is an unbelievable place and the people of Iowa are outstanding, too. The biggest thing is the guys in this program, and the players here are really what makes it special. That's all because of what Kirk has done in the past 20 years."
 
O'Keefe's career at Iowa has been highly successful. He has enjoyed six bowl wins and two Big Ten Championships, and has mentored some of the program's top quarterbacks. Five of the program's top-10 single-season passing performances have been on O'Keefe's watch.
 
This season, junior quarterback Nate Stanley is leading the Hawkeyes' offense. Stanley's 1,153 passing yards in five games is nearly half the total he put up his sophomore season. His reads on the field have led the offense to 1,992 total yards and 18 touchdowns.
 
"We expect him to keep getting better each week in practice, continue his performance in each game, and grow day-by-day and week-by-week," O'Keefe said. "That's all anybody can expect. He gives great effort every day. He studies extremely hard in the quarterback room to prepare himself against all of our opponents. He needs to continue that and he'll be just fine."
 
The Hawkeyes typically lean to a more run-heavy offense, but have seen success in the passing game from Stanley this season. Stanley recorded two 300-plus yard passing games in wins over Northern Iowa (38-14) and Minnesota (48-31).
 
Against Northern Iowa, Stanley completed 23-of-28 attempts for two touchdowns. At Minnesota, he set season highs in attempts (39) and touchdowns (4).
 
"Our philosophy has always been on running the ball well, which helps with the rest of what we want to do," O'Keefe said. "It doesn't matter how many times you throw the ball, it matters how accurately you throw the ball and keep making the big plays when they present themselves out there on the field."
 
The Hawkeyes head to Indiana on Saturday to play the Hoosiers for the first time since 2015. Kickoff is 11:01 a.m. (CT) at Memorial Stadium and the game will be televised on ESPN2.