24 Hawkeyes to Watch 2018-19 | Hawk Talk Monthly — October 2018 | I-Club Events Page | Single Game Football Tickets
By JAMES ALLAN
hawkeyesports.com
IOWA CITY, Iowa — The fruits of the University of Iowa football team's offseason labor are being seen from the Hawkeyes' receiving corps.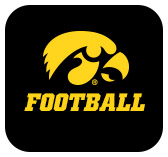 During Iowa's 48-31 victory at Minnesota, it wasn't one Hawkeye, but a collection of Iowa wide receivers stepping up to make plays.
 
Senior Nick Easley caught a team-high six balls for 52 yards, sophomore Brandon Smith had a career-high five catches for 68 yards, and sophomore Ihmir Smith-Marsette made three receptions for 78 yards, including a 60-yard touchdown in the first quarter to give Iowa a 14-0 lead.
 
The unit has come a long way since the beginning of the season. In Iowa's first two games, Iowa's receivers combined for nine receptions and 131 yards. Iowa's best receiver production came in the win over Northern Iowa with the group combining for 15 catches for 163 yards, thanks to Easley's career-best 10-reception game.
 
"They continue to grow because of all the work we have put in during the offseason and the quality practices we have completed to this point," said junior quarterback Nate Stanley. "I am happy with the way the receivers and tight ends played."
 
While Smith-Marsette had his longest career catch, it was Smith who made the highlight reel catch.
 
"That was his best game as a Hawkeye," said Iowa head coach Kirk Ferentz. "That was his best game as far as making tough catches, but also using the things he has that are a little different than some other players."
 
On third-and-3 from the Iowa 45, Smith went on a go route down the far sideline. Smith beat his defender, but Stanley's pass was underthrown. Smith came up with the ball, going over Minnesota's Terrell Smith to catch it on his back, while drawing a pass interference penalty.  
 
"I was going crazy and yelling," said Easley. "At first I didn't see that he caught it because I was on the other side of the field. I saw (Terrell Smith) all over him, and when I realized he caught it, I was like, 'Oh my gosh.'
 
"I was going crazy and yelling at him. Brandon is a quiet guy, he doesn't say a lot, but it was awesome to see him make that play."
 
Easley then caught a second look on the TCF Bank Stadium scoreboard.
 
"It was crazy," he said. "He jumped over the dude. It was going up and competing for the ball. It was a big play. It got everyone going, even more than getting the 20-30 yards, it got everybody excited."
 
That is the Brandon Smith that Stanley has seen in practices since fall camp. A receiver that utilizes his 6-foot-3, 219-pound frame.
 
"Anytime there is a 50-50 ball, a lot of the time he comes down with it and makes a good play on the ball," said Stanley. "He always has a shot to make those plays."
 
The emergence of Iowa's wide receivers has corresponded with the growth of Iowa's offense. The passing attack has averaged 285 yards in its two Big Ten games and 412 yards of total offense.
 
"Anytime we get the passing game going, it helps everyone," said Easley. "We can take those shots down field or just get 10-15 yards when we need to. Moving the chains makes everything easier."
 
The Hawkeyes will play their second straight road game Saturday, traveling to Bloomington, Indiana, to face Indiana at 11:01 a.m. (CT) inside Memorial Stadium.  The Hoosiers are 4-2 overall, 1-2 in Big Ten play with their two losses coming against No. 24/23 Michigan State (35-21) and at No. 3 Ohio State (49-26).
 
"They're a well-coached team," said Stanley. "They had close games with Michigan State and Ohio State. We expect them to play physical and downhill. They'll make us earn everything."
 
The game will be televised on ESPN2 with Beth Mowins, Anthony Brecht, and Rocky Boiman on the call.