Hawk Talk Monthly — October 2018 | Hawkeye Fan Shop — A Black & Gold Store | Fight For Iowa | Request 2018-19 Season Tickets | 24 Hawkeyes to Watch
By JAMES ALLAN
hawkeyesports.com
 
ROSEMONT, Ill. — Nicholas Baer is the only senior on the University of Iowa men's basketball team, making him the only Hawkeye with NCAA Tournament experience.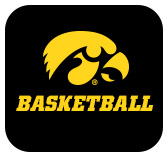 The Bettendorf, Iowa, native has been part of two Iowa NCAA Tournament teams. He redshirted when the Hawkeyes played in March Madness 2015 and a season later, he helped Iowa to an opening-round win over Temple before leading the team with 15 points in a Round of 32 loss to eventual champion Villanova.
 
"When I came into this program, it was in a great spot, going to two NCAA Tournament in a row," Baer said Thursday at Big Ten Men's Basketball Media Day in Chicago. "To get back to the NCAA tournament this season and making a run is important to us."
 
To do that, the Hawkeyes are looking for Baer to return to his sophomore form when he was a jack-of-all-trades player. The forward averaged 7.5 points and 5.8 rebounds en route to earning Big Ten Sixth Man of the Year honors. That season he was the only player in Division I to amass 250 points, 45 steals, 45 3-pointers, and 40 blocked shots.
 
Last season, Baer's numbers dipped as he bounced in and out of Iowa's starting lineup. He averaged 5.3 points and five rebounds, while shooting career-lows in field goal percentage (40.2) and 3-point field goal percentage (30.7).
 
"I am trying to improve on my 3-point numbers," said Baer. "If I can shoot the ball at a higher percentage and spread the floor for our drivers, that is something that will benefit our team."
 
During the 2016-17 season, Baer shot nearly 40 percent from 3-point range, making 46-of-116 attempts. He agrees with Iowa head coach Fran McCaffery that he is shooting as well as he did two years ago, but the key is doing it when it counts.
 
"Once the lights come on, (I need to) continue to have confidence," said Baer. "That's the biggest factor when it comes to shooting; if you don't think it's going to go in, it's probably not going to fall.  If you're a confident shooter, shots will fall."
 
With top 100 freshman Joe Weiskamp joining the Hawkeye roster and likely cracking Iowa's starting lineup, Baer is prepared to assume the part as Iowa's sixth man.
 
"I understand my role, I know my skill set, and what I bring," said Baer. "I am not trying to do too much. It's about understanding my role and maximizing my potential and playing within myself."
 
Junior Jordan Bohannon says it is about "we" rather than "me" for Baer.
 
"It says a lot about Nicholas, he does whatever coach asks of him," said Bohannon. "To have a guy like that to bring energy, not worry about how much he's going to play or the number of points he is going to score, that says a lot about him as a person.
 
"It says a lot about what he is willing to give and sacrifice to this team to be able to win."
 
That's the goal for Baer. He says there is an urgency to win now because it's his final year and opportunity to help the Hawkeyes play their way back to the NCAA Tournament.
 
"I want to get back to the NCAAs (for my teammates) and for the people that have come before me," said Baer. "I would like to end this season on a good note and leave this program how I found it."
 
Iowa hosts Guilford College in an exhibition Nov. 4 at 2:05 p.m. (CT) on Mediacom Court inside Carver-Hawkeye Arena. The Hawkeyes open the regular season Nov. 8, hosting UMKC in the preliminary round of the 2K Classic benefiting Wounded Warrior Project.