Hawk Talk Monthly — October 2018 | I-Club Events Page | Single Game Football Tickets | 24 Hawkeyes to Watch 2018-19
By JAMES ALLAN
hawkeyesports.com
IOWA CITY, Iowa — For some time, redshirt freshman Djimon Colbert has been growing into his role as a linebacker for the University of Iowa football team.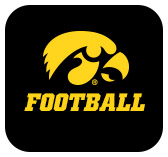 It started following his sophomore season at Bishop Meige (Kansas) High School when Colbert transitioned from being a 180-pound cornerback to 200-pound safety. After earning all-state honors at the position for two consecutive seasons, he joined the Hawkeyes, but was on the move again.
 
"(The Iowa coaches) were comfortable with me playing safety my first summer here, right up until the week before camp," said Colbert, a Shawnee Mission, Kansas, native. "I started to put on weight so they thought it was in my best interest to move to linebacker."
 
When Colbert arrived in Iowa City, he weighed 212 pounds. Two years and 20 pounds later, Colbert plays in the 232-234-pound range as a starting linebacker for the 5-1 and nationally ranked Hawkeyes.
 
"It was a quick switch," said Colbert. "Last year I was on the scout team and Week 2 (this season), I got a chance to start. It was a blessing to my family and me. It has been a quick transition, but I have loved it."
 
There were adjustments, like playing in the box, reading offensive linemen, and identifying various run schemes. Colbert has been able to utilize his skills as a defensive back in the transition.
 
"Having the ability to move my feet around in different ways and transitioning from my drops are things I bring from being a defensive back," said Colbert. "Also, knowing what the guys are doing behind me. The mental side is big for me in making the switch to linebacker."
 
Colbert is one of five Iowa linebackers to make their first career starts this season. The Hawkeyes have mixed-and-matched with five different starting linebacker combinations, but haven't missed a beat. 
 
"All of us prepare like we're going to be starting," said Colbert, who has started three games and is fifth on the team with 27 tackles. "As long as we do that and as long as we know we can be in the rotation, it's nothing new when we get thrown in there. 
 
"That's the biggest thing, keeping that same mentality throughout the rest of the season."
 
The second half of the season begins Saturday when the Hawkeyes host Maryland at 11:01 a.m. (CT) inside Kinnick Stadium.  Colbert calls the game one of Iowa's most mentally challenging weeks of the season to date.
 
"They can do so much," said Colbert. "They can get into 10 different personnel groups and do a lot of different things.  They can get into triple option, jet sweep, and can throw the ball, too.
 
"We have to prepare for all of that and make sure we react to the motions and shifts that they do as a whole defense.  It's a big mental challenge for the linebackers and defensive backs this week and the whole defense."
 
Maryland averages 31.7 points and 365.7 yards of total offense. The Terrapins are a run-oriented team, averaging 245.2 yards. Three different running backs have posted 100-yard games this season.
 
"It's challenging, but we're all up to it and are excited about it," said Colbert.
 
Saturday's Homecoming game will be televised on ESPN2 with Mark Jones, Dusty Dvoracek, and Molly McGrath on the call.  A limited number of tickets remain at the Iowa Athletic Ticket Office at hawkeyesports.com/tickets.