Hawkeye Fan Shop — A Black & Gold Store | Hawk Talk Monthly — October 2018 | 24 Hawkeyes to Watch | Fight For Iowa
Kelsey Drake is a sophomore on the University of Iowa women's swimming and diving team.  The Marion, Iowa, native currently sits in the top 10 in the Iowa records books in the 200 IM, 100 breaststroke, 100 fly, and 200 fly.
What goals does the team hope to accomplish?
"Our main goal is simply to get faster and place higher in the Big Ten, swimming fast at the end of the season is a priority for us."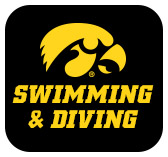 How has the team transitioned from last year to this year?
"Adding Sarah to our coaching staff made the team more positive because she is such a great role model. We can see the encouragement during practice and we're swimming harder and having more fun because of that."
What has been your favorite memory surrounding the team so far?
"Big Tens last year was great competing with the girls and being around that atmosphere."
What is your best advice for this year's freshmen?
"Have fun and don't get too wrapped up in the small things. The year goes by really fast and there's no point in getting stressed over those little details."
What is the best advice you have been given by a coach?
"I was told to stay focused on myself and not get caught up in everything around me. Swimming your own race and not worrying about the other lanes is key."
Who has been the most influential person for you since you came to Iowa?
"It is Lexi Horner or Sarah Schemmel. Whenever we practice together we have fun and push each other really hard. They also have so many positive things to say when I'm not feeling the best."
What made you choose Iowa?
"I chose Iowa because of the team. When I came on my recruiting trip, I clicked with everyone and they made me feel at home."
If not swimming, what other sport would you enjoy doing the most?
"I would enjoy softball. I played softball back in middle school so it would be interesting to start again."
Do you have a meet or race ritual?
"I have certain things I do behind the blocks like arm swings and jumps but nothing specific."
What is your favorite place to be on campus?
"The engineering building is my favorite place, mostly because that's where I spend the majority of my time in class and studying."
Favorite meal?
"I like food too much to choose a certain meal. My favorite food depends on the day."
Who is your favorite person on the team to be around and why?
"I'll stick with Sarah Schemmel and Lexi Horner because they have pushed me to be a better person and it's never a dull moment with them."
Favorite movie?
"The Proposal"
Favorite book?
"A Walk to Remember"