IOWA CITY, Iowa – – University of Iowa letterman Jim Caldwell, longtime college and NFL football coach, will serve as honorary captain as Iowa hosts Maryland at Kinnick Stadium (11:01 a.m., ESPN2) Saturday in Iowa's annual Homecoming contest.
 
Caldwell, a native of Beloit, Wisconsin, lettered as a defensive back for the Hawkeyes from 1973-76, serving as a team captain his senior season. Caldwell still holds the Iowa record for blocked kicks in a season, recording five blocks as a freshman in 1973. He totaled 132 career tackles and seven pass interceptions.
 
Caldwell has been an NFL head coach for seven seasons. He was the head coach at Indianapolis (2009-11) and Detroit (2014-17), compiling a 64-54 overall record. His first season with the Colts ended with a Super Bowl appearance after Indianapolis won its first 14 games of the season.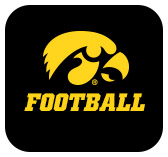 Caldwell was named head coach at Wake Forest prior to the 1993 season, becoming the first African-America head coach in the Atlantic Coast Conference. He led the Demon Deacons through the 2000 season, guiding Wake Forest to a win in the 1999 Aloha Bowl.
 
Caldwell moved to the NFL from Wake Forest, serving as quarterbacks coach for Tampa Bay in 2001. He served as quarterbacks coach and assistant head coach in Indianapolis from 2002-08 before taking over as head coach. He was the offensive coordinator of the Baltimore Ravens in 2012 and 2013.
 
Caldwell earned Super Bowl rings as an assistant with both Indianapolis and Baltimore (XLI and XLVII).
 
Caldwell began his coaching career immediately following his college career, serving as a graduate assistant at Iowa in 1977. He later was an assistant coach in the college ranks at Southern Illinois (1978-80), Northwestern (1981), Colorado (1982-84), Louisville (1985), and Penn State (1986-92).
 
Caldwell will accompany the Iowa captains to midfield for Saturday's pregame coin toss.  He will also be with the Hawkeyes in the locker room before and after the game.