24 Hawkeyes to Watch 2018-19 | Hawkeye Fan Shop — A Black & Gold Store | Hawk Talk Monthly — October
By SHANE STURTZ
hawkeyesports.com
IOWA CITY, Iowa — While junior Katie Birch and sophomore Maddy Murphy headline a dominant one-two punch on the offensive end for the seventh-ranked University of Iowa field hockey team, it's the Great Wall of Iowa, or the Hawkeye defense, that is leading a Big Ten powerhouse.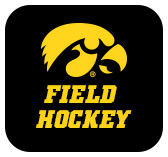 Composed of two freshmen — Anthe Nijziel and Lokke Stribos — and senior Isabella Brown with junior Leslie Speight in goal, Iowa's defense has been impenetrable. In 16 games this season, Iowa has held opponents to just six shots per game and a 0.85 goals against average – a mark that is fourth-best nationally. 
 
Iowa's stout backline has allowed just 14 goals and 50 penalty corners and is a big reason why the program is ranked seventh nationally — its highest national ranking since 2014.
 
Head coach Lisa Cellucci didn't exactly expect this dominant defense this year, but she was hopeful.
 
"It was something we were hoping to have," Cellucci said. "But to have two freshmen in the backfield, you're never really sure, but they have done a wonderful job along with Izzy Brown. It's their poise. They don't get rattled."
 
"Our back three have been immense," said Birch, who is another key part to Iowa's defense. "We call ourselves the 'Great Wall of Iowa,' for a bit of banter. We all try and bring fun to it and it excelled this year."
 
The Great Wall of Iowa's easygoingness, composure, and communication have quietly made Iowa's defense one of the best in the Big Ten.
 
What else has been atop the Big Ten and national ranks?
 
The play of Speight at goalkeeper, who was moved into a starting role weeks before the season due to an injury to freshman goalkeeper Grace McGuire.
 
Speight's seven shutouts rank first in the Big Ten, while her 0.85 goals against average ranks fourth nationally.  
 
Speight's success starts with the coaching of Cellucci, who is one of the greatest goalkeepers in program history. She earned four straight All-Big Ten and regional All-America selections, three All-America selections, and became Iowa's all-time saves leader with 592.
 
Cellucci has used her playing experience to craft a strong defense with an even stronger goalkeeper.
 
"I think it's incredible," said Birch of Cellucci's mentorship of Speight. "Lisa is an incredible goalkeeping coach. She spends so much time with Leslie and Leslie works so hard for us. We try and repeat the favor."
 
Speight's hard work is easily noticeable on game days; however, it's been her ability to handle pressure well that has impressed Cellucci the most.
 
"She's of the utmost importance to our team," Cellucci said. "She's had a lot of composure and poise every day to bring her 'A' game, which is a lot of pressure. She has handled it well and done a good job of communicating and organizing the defense. I couldn't be happier with where she is right now."
 
Iowa concludes the regular season today with a 3 p.m. (CT) contest at No. 13 Rutgers. With a win against the Scarlet Knights, Iowa will solidify a Big Ten Tournament opening round game at Grant Field on Sunday, Oct. 28.