24 Hawkeyes to Watch 2018-19 | Hawk Talk Monthly — October 2018 | I-Club Events Page | Single Game Football Tickets | Football Freshman: Kaevon Merriweather | Football Freshman — Dillon Doyle | Football Freshman — Henry Geil | Football Freshman — Julius Brents | Football Freshman — Riley Moss | VIDEO — Tyrone Tracy, Jr. | Football Freshman: Tyler Linderbaum
By DARREN MILLER
hawkeyesports.com
IOWA CITY, Iowa — It was middle school basketball and Tyrone Tracy, Jr., sat on the bench, agonizingly watching the entire game. The unscheduled day off was a reprimand, not from his school or coach, but from his mother, Laverna.
 
The reason? Earlier that day, young Tyrone received a letter grade of C on a test. That doesn't fly in the Tracy household.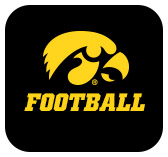 "When we were in middle school, junior high, elementary, my parents weren't going for C's," said Tracy, a freshman wide receiver/running back for the University of Iowa. "You had to have A's or B's — mostly A's, honestly. They were OK with B's, you wouldn't get in trouble with B's, but they really wanted A's throughout everything."
 
Tracy said the unbending parental demands were worth it. The 19-year-old (he turns 20 the day of the Hy-Vee Heroes Game against Nebraska) is making an impression at two positions for an Iowa offense that averages nearly 400 yards per game. In actual game action, Tracy has one reception for 22 yards from quarterback Peyton Mansell during a 38-14 win over Northern Iowa on Sept. 15.
 
"That is one catch I will never forget because it was my first catch," Tracy said. "(That play) usually goes to the running back and it wasn't supposed to go to me, but I ran my route and then it was like everything going in slow motion. (The pass) was coming and it was the best feeling ever. It was on a big stage at Kinnick Stadium, probably the best stadium in nation in my books. It was a great memory I will never forget."
 
Tracy is a 6-foot, 187-pounder from Decatur Central High School in Indianapolis, where he was named Gatorade Player of the Year in 2017. As a senior, he rushed for 1,412 yards and 13 touchdowns, and had 54 receptions for 1,132 yards and 17 touchdowns.
 
"Running back comes more natural, but I started at wide receiver in junior high," said Tracy, who began playing football at 3 years. "They let me do both (at Iowa), so whatever gets me on the field, I really don't care what (position) it is."
 
Iowa head coach Kirk Ferentz was impressed with Taylor's energy and diverse skillset. The question was, and still is, wide receiver or running back?
 
"We are trying to figure out what he does best, but the good news is, he does both things pretty well and he has a great future," Ferentz said.
 
Tracy's father, Tyrone Tracy, Sr., was a two-time NAIA All-American in football for Fort Hays State in Hays, Kansas. He entered the school's Tiger Sports Hall of Fame in 2011.
 
From 1986-89, the elder Tracy accounted for 5,457 all-purpose yards, with 2,051 coming in 1987. He holds school records for career kickoff return and career punt return yards, single season points scored per game (10.8 in 1987), and many more.
 
"I started (playing football) when I was really little because my dad was like a football god, so he wanted me to be just like him," Tyrone, Jr., said. "That's what happened."
 
Tracy can play in three more games and still preserve his redshirt; the Hawkeyes have a minimum of six games remaining this season.
 
"My first goal is to get on the field more," Tracy said. "I want to play and get the full football experience. My second goal is to score a touchdown. I know the plays now, so I really want to score a touchdown, that's my main goal, especially for a receiver."
 
Ferentz appreciates Tracy's upbringing, calling it a neat story that emphasizes the correct priorities.
 
"That is helpful to us because it's not like we're training him a lot right now," Ferentz said. "He is focused on all the right things. He has a good personality and they are an upbeat family."
 
Tracy is an open major, but is leaning toward journalism and communications in order to one day become a sports broadcaster.
 
"I like talking about football, it comes very easy to me," he said.
 
Playing football appears to come easy for Tracy as well.