Hawkeye Fan Shop — A Black & Gold Store | 24 Hawkeyes to Watch 2018-19 | Hawk Talk Monthly — October
By BRANDEE BRITT
hawkeyesports.com
IOWA CITY, Iowa — When the 2018 Big Ten Field Hockey Tournament bracket was released Sunday the ninth-ranked Hawkeyes experienced déjà vu.
 
For the second time in as many seasons the Hawkeyes will travel to University Park, Pennsylvania, to take on the Nittany Lions in the quarterfinals of the Big Ten Tournament. Last year, Iowa left with 5-1 season-ending loss — an outcome that has stuck with the Hawkeyes this season.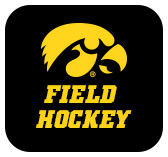 "We want to go further than we did last year," sophomore Ellie Holley said. "We did the exact same thing last season — playing Penn State away in the first round. We're not going to let the same thing happen. We're doing everything we possibly can in training and in the game to make sure that it doesn't.
 
"The fuel and the drive that everyone has in their bodies right now to take on Penn State is amazing."
 
This year, a much-improved Hawkeye team will make the trip out east. Led by a stout defense, the Hawkeyes have controlled a majority of their games this season.
 
Iowa's defense has allowed just 0.86 goals per game — a mark that ranks fourth nationally – and allowed just 99 shots and 51 penalty corners in 17 games. Junior goalkeeper Leslie Speight's seven shutouts are the most in the Big Ten and her .750 save percentage is the third best in the conference.
 
Now, the key to bringing home a victory this weekend, according to sophomore Maddy Murphy, is getting out to a fast start.
 
"We're not ready to give up," said Murphy. "We've still got a long way to go. We have a lot of hockey left in us, and we know we have to bring it this weekend. We've started a bit slow lately, so as soon as the whistle blows, we'll be ready to go."
 
The Hawkeyes and Nittany Lions met once during the regular season — a 3-2 Iowa win on Oct. 12 at Grant Field. Murphy led the charge, registering her first career hat trick. Now, the Hawkeyes are tasked with beating a top-ranked opponent for the second time in as many chances.
 
"It's a tall task, but we're up for the challenge," Iowa head coach Lisa Cellucci said. "Penn State is outstanding and they are a different beast at home. We have a challenge in front of us, but our team is confident.
 
"The team knows we've had a great body of work all season. They are ready to take it to Penn State. I've been impressed with their resiliency."
 
As a program, the Hawkeyes have had great success in the conference tournament. Iowa has won five Big Ten Tournament titles (1981, 1994, 2006, 2007, 2008), including three straight from 2006-08. The Hawkeyes are 29-20 all-time in the conference tournament.
 
"For us, we're trying to not look too far ahead," Cellucci said. "We focus on getting a little bit better every day in practice so that we are that much better when we play Penn State. That's what we've been preaching to the girls. We need to take care of business."
 
The Hawkeyes and Nittany Lions square off Sunday at 11 a.m. (CT). The contest will air live on BTN.