Hawkeye Fan Shop — A Black & Gold Store | 24 Hawkeyes to Watch 2018-19 | Hawk Talk Monthly — October 2018 | Iowa vs Minnesota and SDSU Results
MINNEAPOLIS — The University of Iowa men's swimming and diving team narrowly fell to No. 21 Minnesota, 158.50-141.50, on Saturday at the Jean K. Robbins Aquatics Center.  The Hawkeyes split the dual, as they dominated in a 248-50 victory over South Dakota State. 
Iowa started off the meet with a first place finish in the 400-medley relay with the team of Kenneth Mende, Daniel Swanepoel, Michael Tenney, and Jack Smith touching in 3:18.34.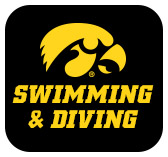 Mende added two individual victories in the 100 back (49.47) and 200 back (1:47.11). Freshman Anze Fers Erzen and junior Forrest White followed behind in second and third in the 200 back to complete the top three sweep.
FREESTLYE DEPTH
Junior Joe Myhre led the freestyle group with a second-place finish in the 50 free (19.99) and first-place touch in the 100 free (44.27). Smith followed behind Myhre with bronze finishes in the 50 free (20.51) and 100 free (45.22). Junior Will Scott recorded fourth place swims in the 50 free (20.53) and 100 free (45.95) as well.
ONE-TWO PUNCH
Freshman Mateusz Arndt and senior Ben Colin delivered a one-two punch in the 500 free late in the meet. Arndt swam to a 4:28.73, while Colin finished with a time of 4:34.27.
Tenney added another Hawkeye victory after winning the 200 fly with a time of 1:48.49. He also finished fourth in the 100 fly (50.64) behind senior Michal Brzus (50.49).
NARROW DEFEAT
Sophomore breaststroker Daniel Swanepoel took two silver medals in the 200 breast (2:01.96) and 100 breast (56.12).
Fers Erzen, Tenney, and freshman Dolan Craine set up a potential come from behind win in the 400 IM after touching first, second, and fourth. Unfortunately, the split Iowa 'B' and 'A' relay teams finished second and third in the 400 free relay to conclude the meet.
HEARING FROM HEAD COACH MARC LONG
"I'm proud of our effort today. We didn't ultimately get the win, but we had many outstanding performances. We will grow as a team from this meet."
UP NEXT
The Hawkeyes will face Denver and Michigan at the Campus Recreation and Wellness Center on Nov. 2-3.