Hawkeye Fan Shop — A Black & Gold Store | 24 Hawkeyes to Watch 2018-19 | Hawk Talk Monthly — October 2018 | Iowa vs Minnesota and SDSU Results
MINNEAPOLIS — The University of Iowa women's swimming and diving team defeated South Dakota State, 231-64, on Saturday at the Jean K. Freeman Aquactic Center, but the Hawkeyes were on the short end of a Big Ten dual to against No. 21 Minnesota,189.50-109.50.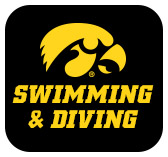 OPEN SCORING
Senior Abbey Schneider opened up the individual events with a second place finish in the 1,000 free. She swam to a time of 10:26.77.
SOPHOMORES SHINE
Sophomore Kelsey Drake opened up the victories for the Hawkeyes in the 200 fly, finishing with a time of 2:01.77. She also went on to win the 100 fly with a time of 54.99. Senior Kelly McNamara finished directly behind Drake with a time of 55.12.
Sophomore diver Jayah Mathews recorded a pair of wins off the 1-meter and 3-meter springboards. She scored a 295.55 on the 1-meter and a 349.20 on the 3-meter. Freshman Sam Tamborski finished third behind Mathews off the 3-meter with a score of 328.35.
Sophomore Sarah Schemmel won the 50 free in a time of 23.86, while also placing fourth in the 100 free (52.96). McNamara came in a close second in the 50 free with a time of 23.89.
JUNIORS MAKE IMPACT
Junior Hannah Burvill captured another silver medal with a 1:49.93 in the 200 free. Burvill would go on to two other second place finishes in the 200 back (2:02.32) and 400-medley relay (3:26.62). 
Junior Allyssa Fluit took second in the 100 free with a time of 52.17 and fourth in the 500 free (5:04.50). 
UP NEXT
The Hawkeyes will face Denver and Michigan at the Campus Recreation and Wellness Center on Nov. 2-3.