24 Hawkeyes to Watch 2018-19 | Hawk Talk Monthly — October 2018 | Single Game Football Tickets | I-Club Events Page | Bowl Central
By DARREN MILLER
hawkeyesports.com
UNIVERSITY PARK, Pa. — Dominique Dafney was special, Mekhi Sargent was relentless.
 
Those two Hawkeyes contributed big moments for No. 18 Iowa on Saturday during a 30-24 loss at No. 17 Penn State.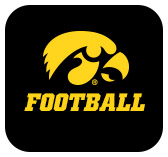 Dafney's plays on special teams were instrumental in sparking the Hawkeyes to a 12-0 first quarter lead inside Beaver Stadium. Sargent's tough yards on the ground gave the Hawkeyes life in the second half, when they trailed by 10 points in the fourth quarter, but drove into Nittany Lion territory three times in the final 15 minutes.
 
Dafney, a 6-foot-2, 225 pound junior wide receiver, blocked a Blake Gillikin punt that went through Penn State's end zone for a safety on the game's first possession. After Iowa raced to a 12-0 lead, it was Dafney who flew down on kickoff and drove Penn State's K.J. Hamler back-first into the turf after a short return.
 
"It was a basic play and my role was to make sure the ball was punted," Dafney said of his first impact play of the game. "When I saw the ball hit the ground, that's when my eyes were wide open and I went for it because the block was there."
 
It was Iowa's first blocked punt in three seasons.
 
Iowa and Penn State entered their eighth games of 2018 ranked 1-2 in the Big Ten in kickoff returns. The Hawkeyes were on top with an average of 30.9 yards per nine returns and Penn State averaged 26.8 yards on 18 attempts.
 
Dafney and his teammates on the kickoff team wanted to make it a race to the Penn State returner, which is fine with Dafney, who was a sprinter on the West Des Moines (Iowa) Valley High School track team.
 
"We talked about it all week and knew (Hamler) was dangerous if he got into the open field," Dafney said. "As soon as I saw him come out, I looked to make a play, got off my block, he came right at me, and I went to make the tackle."
 
Dafney gets most of his game action on punt return, kickoff return, and kickoff special teams.
 
The 5-foot-10, 210-pound Sargent, who like Dafney, began his career at Iowa Western Community College in Council Bluffs, Iowa, was Iowa's leading rusher at halftime with 20 yards on seven carries. The sophomore opened the second half with a 23-yard gain and on the Hawkeyes' second series, ripped off runs of 10 and 14 yards.
 
"I'm just thankful to be here and thankful for the opportunity," said Sargent, who makes up one-third of Iowa's potent running back trio with Ivory Kelly-Martin and Toren Young. "As a team we executed, but it wasn't to the best of our ability. That's why we will go back to practice and sharpen some things."
 
Iowa ran the ball 38 times for 135 yards at Penn State. By game's end, Sargent produced career highs in attempts (16) and rushing yards in a game (91). He reeled off a 20-yard gain midway through the fourth quarter that put the Hawkeyes in position for a game-winning score. After originally being marked down at the Nittany Lion 7-yard line, a video review confirmed that Sargent stepped out-of-bounds at Penn State's 32.
 
"I saw nothing but daylight," said Sargent, who had 71 yards on nine carries in the second half. "I knew I had to get skinny on the sideline and get my legs up, but unfortunately I stepped out."
 
Iowa returns to action Nov. 3 at Purdue (4-4, 3-2). Kickoff is set for 2:30 p.m. (CT) in West Lafayette, Indiana.