Hawkeye Fan Shop — A Black & Gold Store | Hawk Talk Monthly — November | 24 Hawkeyes to Watch 2018-19
By BRANDEE BRITT
hawkeyesports.com 
IOWA CITY, Iowa — Off the shore of Lake Superior along Wisconsin State Highway 13 sits the town of Port Wing, Wisconsin. Blink just once and you'll miss the city and its entire population of 164 — including University of Iowa senior All-American Megan Gustafson.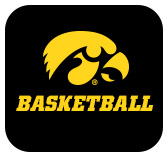 It is late May but the breeze off the lake has the temperature at a cool 55 degrees. As the sun starts to peak through the clouds, Gustafson walks into Johnsons Store — the only store within a 15-mile radius.
 
She strolls past three of her Dad's published books, which are proudly displayed on aisle three, until she reaches the back refrigerated section to retrieve Port Wing's infamous smoked fish. Her family has guests in town, and they have to try it. Her mom insists.
 
On her way out of the store she strikes up a conversation with the store owner, Smokey. "How long are you back for?" he asks. "Just a few more days," she responds. "Practice starts next week."
 
He looks up at her, as most people do, and a smile comes across his face. He's proud, proud of the woman who has made a name for herself on the basketball court, but more so honored knowing he's from the very town that helped shape her. 
 
Smileycakes
 
Clendon and Eva Gustafson are Port Wing grade school sweethearts. In fact, they were married in the middle of town square underneath the Bell Tower. They have two girls, Megan and her older sister, Emily.
 
Upon stepping foot into the Gustafson home, it's clear Clendon and Eva are incredibly proud of their daughters. School pictures coat the walls and bins upon bins of videos memorializing every life event are tucked away in the front closet, easily accessible if they want to take a trip down memory lane.
 
While the two Gustafson daughters are close, they are quite opposite. It has been that way since the beginning. Emily was a shy child. Megan, on the other hand, was anything but.
 
"Megan was always very social," Eva said. "Whenever we had company, she was always the first one to the door to greet them. Megan always had a big smile on her face, so I gave her the nickname Smileycakes."
 
The namesake still rings true today.
 
The perfectionist
 
It didn't take the Gustafson family long to figure out Megan was quite the perfectionist. Whether she was drawing for fun or working on a school project, every single step had to be made with the utmost precision.
 
"Megan did everything with energy and focus," Clendon said. "If she was doing a project for school she would sometimes drive me crazy, and I am a teacher. She had to get it perfect. She would spend hours on one thing, and I'd be thinking 'Just get it done!"
 
The Gustafson family owns several acres of land. It made for exciting childhood adventures for the Gustafson sisters. Behind the house sits a large barn that once housed several horses. Emily and Clendon were horse-riding pros. Megan was not.
 
"Just about every single time we'd get on horses to go riding, my horse would throw me off," Megan said. "Horses just hated me."
 
That didn't stop her though. Time after time Megan would hop on the horse only to eventually be thrown off. It is something she never quite mastered, but it wasn't for lack of effort.  
 
"From when she was very little all the way through school, you could see that competitiveness," Clendon said. "You could see that drive."
 
Where it all started
 
In second grade, Megan played on the school's fifth and sixth grade basketball team. It was her first true experience with organized basketball.
 
In her first game, Megan ran down the floor and positioned herself underneath the basket. When a teammate passed her the ball, she put a shot up and scored.
 
She hasn't stopped since.
 
"I got so excited when the ball went in that I would run down the court, set up under the basket, and yell for the ball every single time," Megan said. "That's where it all started."
 
She took to the game from there. She would ride her bike into town to practice at the outdoor court or head to the school gym to practice her technique. There was track and volleyball, too, but basketball stood above the rest.
 
"I've loved basketball ever since I made that basket in second grade," Megan said. "I love scoring, and I love being a part of a team. The sport really grew on me right away."
 
Holding her own
 
While Megan's admiration for the game of basketball was clear, it wasn't until eighth grade when she truly began to recognize she had talent.
 
In true small-town fashion, there were not enough kids to make an eighth-grade girls' team. Megan's only choice was to join the boys' team. It didn't faze her. In fact, she started every game and was the second leading scorer.
 
"At one point there was a game where the opposing coach came up to our coach and said I was being too rough on the boys," Megan said. "That's something I'll always remember. I knew I could hold my own against the boys."
 
The realization came a bit earlier for Clendon. The former University of Wisconsin-Superior basketball student-athlete recognized her gift four years prior.  
 
"When she was in fourth grade, she was just going to practice with the eighth-grade girls," Clendon said. "I'd watch a few practices and she was as good as any of the eighth graders at that point.
 
"She ended up going from just tagging along to practices to being a contributor on the team. That was probably the earliest point I remember thinking she could be pretty good."
 
"There's no way she's going to beat that…"
 
By the time high school rolled around, Megan was the talk of the basketball-loving town.
 
"Her freshman year she averaged about 20 points on the varsity team," Eva said. "Her sophomore or junior year it was up to about 30, and I thought, 'There's no way she is going to beat that.' Then she started scoring 40 points a game and I thought it was crazy. She would be double and triple teamed, but it didn't matter."
 
In all, Megan compiled 3,229 points, 1,724 rebounds, and 628 blocks. She is the only player in the state of Wisconsin — male or female — to eclipse 3,000 career points. Her jersey hangs up on the school's wall and her trophies and accolades are proudly displayed for all to see.
 
For Megan, however, it's the people cheering in the stands that she remembers most.
 
"Every time we were in the playoffs the stands would be absolutely packed," Megan recalls. "We won our regional championships at home. I love the atmosphere that the gym brought for home games. I love how much this community embraces everyone in it."
 
She shined on the AAU circuit, too, playing for Team Wisconsin in Menomonie — a three-hour trek one-way. That meant 20-30 trips a year to Menomonie alone. Then there were tournaments in Minneapolis, Chicago, Milwaukee, Green Bay… the list goes on.
 
"A lot of her tournament games were at least five hours away," Eva said. "There was a lot of traveling involved with that, but we liked it. We had fun."
 
The thousands of miles traveled quickly paid off as the small-town girl with a big-time talent caught the eye of Division I teams.
 
She's a Hawkeye
 
Several schools took notice, but after a visit to Iowa City the Hawkeyes continually rose above.
 
"I was able to meet the team and see what Iowa had. I was able to see my vision for the future," Megan said. "I fell in love with what Iowa is all about. They are all about family and including everyone.
 
"I remember going on visits to other places afterwards, and I was always comparing everything back to Iowa. That's when I knew."
 
The choice paid off. Megan enters her senior season with her name etched all over the Iowa, Big Ten, and NCAA record books. After leading the NCAA in points per game (25.7), field goal percentage (67.1), and field goals made (320) last season, she earned All-America accolades from seven different media outlets. Megan also became one of only two NCAA women's basketball players in the last 10 years to average 24 or more points and 12 or more rebounds.
 
Quite frankly, a complete list of all of her accomplishment reads like a novel, and it's something her parents never really saw coming.
 
"I always dreamed it would happen," Clendon said. "I thought maybe she'd play for a local Division II team or Duluth, but you always hope for something big time, something in the Big Ten.
 
"But being an All-American? That was only ever a dream."
 
An All-American Without an Ego
 
Perhaps the only thing more impressive than the records or accolades is Gustafson's humbleness toward it. Head coach Lisa Bluder describes her as "An All-American without an ego."
 
Her character is on display after every game when she stays late — even hours after the final buzzer sounds — to take pictures with every single fan that asks for one.
 
"That's every parent's dream — to not only have their child be successful in what they do, but be successful in how they behave toward others," Clendon said.
 
It's that very attitude Megan credits to her small-town roots.
 
"I love (Port Wing)," Megan says. "It's so peaceful and relaxing. It keeps me grounded. No matter where I go in life, this will always be my home and I can always call it that."
 
The pride of Port Wing
 
In Iowa City, Megan will go down as one of the best ever to wear the Iowa uniform. To the national media, she is a Preseason Player of the Year candidate. To the town of Port Wing, she will always be just Megan, and that's the way she likes it.
 
"I carry so much pride," Jodi Truchon, Megan's family friend and former coach said. "I brag about her everywhere I go. It's the human being that she is. She's a real person, she's not just this celebrity in Iowa. She comes home and treats us like nothing has changed. I have nothing but pride for this young lady."
 
If you ever find yourself off the shore of Lake Superior along Wisconsin State Highway 13 do yourself a favor and don't blink. You might just miss a treasure of a town, its people, and the pride they have for their All-American.