Hawkeye Fan Shop — A Black & Gold Store | Hawk Talk Monthly — November | 24 Hawkeyes to Watch 2018-19
By RICK BROWN
hawkeyesports.com
 
IOWA CITY, Iowa — People have been calling Makenzie Meyer a shooter for years.
 
"Probably since sixth or seventh grade," said the University of Iowa's junior guard.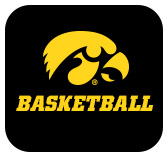 Those shooting skills are expected to play a major role in the Hawkeyes' 2018-19 season. Paired with the play of All-American Megan Gustafson in the post, that inside-outside game will challenge opponents all season if they click in unison.
 
"I think we have to be dangerous from the outside," said Iowa head coach Lisa Bluder. "Otherwise it makes it so much harder on Megan. It makes it harder to get her the ball."
 
Bluder challenged each of her players to make 16,000 shots in a three-month period starting in June. The 16 represents the Sweet 16 of the NCAA Tournament, a place Iowa last visited in 2015.
 
Not everyone reached Bluder's goal, but Meyer did.
 
"Every shot you put up, it gives you more confidence," Meyer said. "That is so important for a shooter to have."
 
Meyer has logged a lot of experience in two college seasons, playing in 60 games with 49 starts. She had to play through trying times along the way.
 
"I just feel more comfortable every day," she said.
 
Meyer's numbers her first two years reflect significant improvement, a trend that she wants to continue as a junior. Her scoring average increased from 6.8 to 10.8 points a game as a sophomore. Her 3-point percentage also increased, from .356 to .378. Her free-throw percentage took a major leap, from .710 to .912 and her assists increased from 64 to 111.
 
Gustafson's presence on the inside will give Meyer plenty of opportunities to improve her numbers again as a junior.
 
"She has to be able to capitalize," associate head coach Jan Jensen said. "She certainly can. If they're even going to think about doubling (Gustafson), she has to be licking her chops."
 
Meyer relied on her two seasons of experience over the summer. She took shots with a purpose. She pictured defenders flying at her, she worked on ball fakes and jab steps, and she focused on putting the ball on the floor and adding a mid-range jumper to her skill set.
 
"I now have that in my arsenal," Meyer said.
 
Visualizing a play, and how a defense might react as she took each shot, was also a constructive teaching point.
 
"The visualization thing is huge," Meyer said. "Coach Jensen talks about that a lot. It's something I work on when I'm shooting by myself."
 
It extends beyond a snap of the wrist on a jumper.
 
"A lot of it is strength and balance, being able to visualize the shot in a game," Meyer said. "I've worked on that a lot."
 
Soon, she hopes to enjoy the fruits of her offseason labor.
 
"Megan makes it a lot easier for me," Makenzie said. "It's give and take. If I can make the 3s, then we can pass to Megan more. If she can score inside, and she has proven she can, it gives me more room."
 
The Iowa coaches feel comfortable with Meyer taking all the shots she can, even those with a defender flying at her. Because once they go in, she will have ample opportunity to put the ball on the floor and drive or pad her assist total.
"Miss three in a row, and we're going to keep coming at you," Jensen has told Meyer.
 
Many of Makenzie's 16,000 made shots over the summer came from the free-throw line.  She stood there many times, 15 feet away, and did some role playing.
 
"OK, you have to make this shot to win the game," she would tell herself.
 
Meyer said the secret to her success at the line is consistency. she still banks on some advice she received from former Iowa State player Lyndsey Fennelly, one of her skills coaches when she played AAU basketball for the All-Iowa Attack.
 
Fennelly told her to think of three words before every free throw: Cool, calm, collected.
 
"It really helped me relax at the time," Makenzie said. "It stuck. Now I take three dribbles and say, "Cool, calm, collected.' "
 
Iowa's basketball program was trying to get its NCAA mojo back when Meyer arrived on campus in the fall of 2016. Now the Hawkeyes are a preseason top 25 team and one of the favorites in the 2018-19 Big Ten race.
 
"We know how to play the underdog role," Meyer said. "Now it's different. We're playing with a target on our back, but we're ready for it."
 
The Hawkeyes host Dakota Wesleyan in an exhibition game Tuesday at 7 p.m. (CT) on Mediacom Court inside Carver-Hawkeye Arena. Iowa's regular season opener is Nov. 9 against Oral Roberts.