24 Hawkeyes to Watch 2018-19 | Hawk Talk Monthly — November | Single Game Football Tickets | I-Club Events Page | Iowa-Purdue Recap/Stats/Photos | Bowl Central
By DARREN MILLER
hawkeyesports.com
WEST LAFAYETTE, Ind. — In a Big Ten Conference football game where quarterbacks combined for 44 completions, 608 yards, and five touchdowns, the final result came down to the foot of a kicker.
 
Not to diminish the production of all-conference-caliber signal-callers in Iowa's Nate Stanley and Purdue's David Blough, but Saturday's game featured two pretty decent specialists as well. While it was Spencer Evans of Purdue who provided the game-winning margin of victory by kicking a 25-yard field goal with eight seconds remaining, it is Hawkeye senior Miguel Recinos who extended two impressive streaks.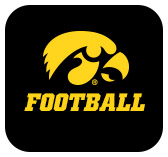 Recinos was 3-for-3 on extra points, making him 31-for-31 on the season and 77-for-77 for his career in that department. He also connected on a 34-yard field goal in the second quarter — his 10th consecutive successful try — dating back to the first half against Northern Iowa on Sept. 15.
 
"It's tough. What people don't realize is it is just as hard to stay in rhythm as a kicker as it is to get yourself out of a bad one," Recinos said. "When things are going well, it can be easy to stop doing the things that helped you get there in the first place and ease your foot off the gas. That's when you are in trouble and you don't realize it until it's too late."
 
Adding to his career total at Purdue, Recinos now has 152 points, moving past Albert Young and into 19th place in school history. A year ago, Recinos scored 77 points, one fewer than team-leader Akrum Wadley.
 
Weather conditions at Big Ten venues — or anywhere else in the Midwest — can be unforgiving during the fall. More than anyone, kickers feel the wrath.  
 
There were 30 mile-per hour winds in Kinnick Stadium on Oct. 20 against Maryland: Recinos made field goals of 23, 25, and 26 yards.
 
There was rain and slippery grass on Oct. 27 at Penn State: Recinos made a field goal from 27 yards as well as a career-long from 49.
 
There were swirling winds from the open end of Ross-Ade Stadium on Nov. 3 at Purdue: again, Recinos was flawless.
 
And those are just the three most recent outings.
 
Through nine games this fall, the senior from Mason City, Iowa, is 13-of-16 on field goals and leads the team with 70 points.
 
"Any time you can have that type of success, it's really nice from a couple perspectives," Recinos said. "It's a big personal achievement because this is not an easy conference to kick in.
 
"More than anything, it is the whole field goal unit that is doing well. For those 10 (consecutive makes), the line blocked well enough for the ball to be kicked and for Colten (Rastetter) to hold it well and myself to be able to kick it. It is a whole unit."
 
Recinos played another vital role against Purdue and that came as part of the kickoff unit. He kicked-off seven times with two touchbacks, but more importantly, his placement and the work of the coverage unit held the dangerous Boilermakers to an average of 6.6 yards per return and a long of 15. Putting that in perspective, Iowa's Ihmir Smith-Marsette had three kick returns for 75 yards and a long of 40.
 
"Our coverage team was outstanding because (Purdue's Rondale Moore) is a very good returner," Recinos said. "We were able to limit him pretty well on kickoffs. That is one more aspect of the game."
 
Iowa returns to Kinnick Stadium on Nov. 10 after playing four of its last five games on the road. The Hawkeyes are 4-1 in five home games this season with the next test coming from a 5-4 Northwestern team that leads the Big Ten West Division.
 
Don't be surprised if the final outcome comes down to Recinos.