Hawkeye Fan Shop — A Black & Gold Store | Fight For Iowa | Photo Gallery
IOWA CITY, Iowa — The University of Iowa's women's tennis team ends its fall season this weekend in Las Vegas, Nevada, at the Rebel Tennis Women's Invitational on the Fertitta Tennis Complex on the campus of UNLV.
 
Tournament play begins Friday at 12 p.m. (CT) and continues through Sunday.
 
"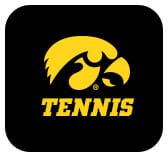 This tournament presents a great opportunity for us to build off of the ITA Central Regionals and test ourselves against high quality opponents," said UI head coach Sasha Schmid. "This team has done a great job of bonding over the course of the fall, even without traveling as a team. I'm excited for the team to make memories this weekend and I believe it'll be great for our team as we end the fall season."
 
All nine Hawkeyes are competing in the event. Freshman Chloe Ruette and junior Elise Van Heuvelen Treadwell will make their fall debut for the Hawkeyes. Both Ruette and Van Heuvelen Treadwell missed the ITA Central Regional Championships in October due to injury. Van Heuvelen Treadwell received Big Ten Freshman of the Year honors in 2017 and has been named Big Ten All-First Team twice in her Hawkeye career.
 
"Having Chloe and Elise back practicing has been great for everyone and we're excited to see them compete with the team this weekend," said Schmid.
 
The tournament includes nine teams from a variety of conferences. Texas A&M, Texas Tech, Purdue, Arizona, Air Force, Liberty, and North Texas will join host UNLV and the Hawkeyes in Las Vegas.
 
Results will be posted at hawkeyesports.com.