24 Hawkeyes to Watch 2018-19 | Hawk Talk Monthly — November | Hawk Talk Daily links | I-Club Events Page | Single Game Football Tickets | VIDEO — Jason Baker
By DARREN MILLER
hawkeyesports.com
IOWA CITY, Iowa — Kirk Ferentz was 21 games into his head coaching career at the University of Iowa and his program was still searching for — as he called it — a legitimate start-to-finish football victory in the Big Ten Conference.
 
The season before, the Hawkeyes defeated Northern Illinois, 24-0. Early in October of the 2000 season, Iowa upset No. 25 Michigan State, 21-16, in Kinnick Stadium. But the Hawkeyes were outgained, 466-231.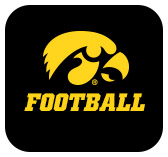 That changed less than a month later on Nov. 4 in State College, Pennsylvania, when Iowa defeated Penn State in double overtime, 26-23. The Nittany Lions picked up 434 yards, but they had a lot of yardage to gain. The average beginning point of their drives in regulation was their own 22-yard-line.
 
"As much of anything, the impact of Bake's punting was huge in that game," Ferentz said.
 
Jason Baker (along with current special teams coach LeVar Woods) was a team captain that season. He punted five times at Penn State for an average of 50.2 yards per punt. It resulted in Penn State starting at its own 27, 20 (twice), 14, and 7-yard lines.
 
"That stands out as the No. 1 game I can remember where a punter impacted a game," Ferentz said.
 
Baker returns to Kinnick Stadium as honorary captain for Iowa's Military Appreciation Game against Northwestern on Nov. 10. Kickoff is 2:42 p.m. (CT)
 
"The fact this group of coaches has not forgotten about the stuff guys went through 20 years ago is pretty cool," Baker said Friday inside the Stew and LeNore Hansen Football Performance Center. "There are probably not a lot of programs in America where a coach can stand up and from experience, in a heartfelt fashion, share what that was like (when I played here)."
 
Baker went on to the NFL, where he played for six teams over 11 years. In his career, he punted 798 times for an average of 42.7 yards per punt.
 
Words from coach Ferentz and two assistant coaches served him well as a professional.
 
As a freshman, Baker was in a kickoff meeting when coach Bob Elliott called on him to answer a question.
 
"He said, 'Listen, I need you, we all need you, you're our 12th man on defense,'" Baker said. "It was a whip-cracking. Up to that point, the specialist work was always sort of the necessary evil: go in the corner and come back ready to go. It was the first time somebody was like, 'You're a big part of this and we need you to show up and operate at a high level.'"
 
In 1999, Ferentz hired Pat Flaherty as special teams coach. Flaherty has been in the NFL ever since his one season at Iowa.
 
It proved to be a rough-at-times, yet beneficial, relationship between punter and coach.   
 
"When I got to the NFL, there were things that derailed other punters and kickers that I had already been through," Baker said. "There were a lot of silver linings; the amount of valuable material I experienced here was awesome."
 
Baker also remembers a post-practice huddle prior to the 2000 season. As Baker recalls, it followed a poor practice for the Hawkeyes and Ferentz was letting the team know about it.
 
"I don't remember his exact words, but what I heard was, 'You're going to play and I need you to play at a high level until we get the rest of this thing dialed in,'" Baker said.
 
Baker holds Iowa career records with 272 punts for 11,304 yards from 1997-2000.
 
"I'm one of the few guys who has the blessing of playing for two years for coach (Hayden) Fry and two years for coach Ferentz," Baker said.
 
Baker, who is originally from Fort Wayne, Indiana, earned a bachelor's degree in business management with a certificate of entrepreneurship from the University of Iowa. He resides north of Charlotte, North Carolina, where he works for a performance consulting practice. He is married with two children.