I-Club Events Page | Hawk Talk Monthly — November | 24 Hawkeyes to Watch 2018-19 | Hawk Talk Daily links | Single Game Football Tickets | Game Recap | Photos | Stats
By DARREN MILLER
hawkeyesports.com
IOWA CITY, Iowa — University of Iowa sophomore wide receiver Ihmir Smith-Marsette stood at a podium to face questions after the Hawkeyes' 14-10 loss to Northwestern on Saturday in Kinnick Stadium.
 
He was frigid, but not frustrated. Spending a November afternoon in 20-degree temperature will cool the body, but losing a third consecutive Big Ten game couldn't discourage the 6-foot-1 sparkplug.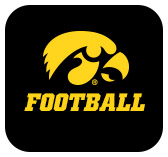 In fact, he was asked twice if the Hawkeye offense, or he in particular, were frustrated.
 
"Nah, there is no frustration," he said the first time. "No frustration," he emphasized a second time.
 
"We have a lot of work to do," Smith-Marsette said. "We have another game ahead of us, so we need to go out and showcase what we have."
 
One of the biggest show pieces for the Hawkeyes is Smith-Marsette. He entered the game against Big Ten West Division champion Northwestern having 14 catches for 16.7 yards per catch. He had returned 12 kicks for an average of 31.5 yards and a long of 60.
 
With Brandon Smith — the tallest, most physical Hawkeye receiver sitting out because of injury — it seemed logical that quarterback Nate Stanley would look often toward Smith-Marsette. He did eight times, with Smith-Marsette tying a career-high with four receptions for a game- and career-high 90 yards. His 28-yard touchdown grab put Iowa on top, 10-7, with 4:27 left in the third quarter.
 
"(Offensive coordinator) Brian Ferentz drew it up and we executed," Smith-Marsette said. "The line gave Nate a great, great pocket. I executed my route, Nate gave me a great ball in the back of the end zone, so all that was left was for me to finish the play off. I finished it."
 
The two-play, 36-second scoring drive consisted of back-to-back Stanley-to-Smith-Marsette completions. The first was for 14 yards.
 
As important and well-timed as the scoring play was, it wasn't Smith-Marsette's biggest of the game. Iowa was faced with third-and 6 from its 46 on the preceding series when Smith-Marsette made an acrobatic catch on Iowa's sideline, somehow gaining possession and getting his left foot down for a 35-yard completion.
 
"I knew I had one foot down, I didn't know where it landed," Smith-Marsette said. "Looking at the replay, I knew I was in bounds. I was hoping that was a spark to get us started."
 
The spark didn't happen immediately. Three plays later, Miguel Recinos saw a 38-yard field goal attempt carom off the right upright. It was his first miss in 12 attempts.
 
Pass receiving wasn't the only area where Smith-Marsette was on fire. In a bit of foreshadowing, he returned the opening kickoff 43 yards to the Iowa 47. He also had returns of 37 and 20 yards.
 
"If you look at it, all the holes were opening because of the blocking," said Smith-Marsette, who made his first start since the season opener. "If it wasn't for them, I wouldn't be able to get that far down field on each return. All the credit goes to everyone who blocks on that unit."
 
The 198 all-purpose yards for Smith-Marsette on Saturday are a career-high and the third time he has topped 115 yards this season (167 at Minnesota, 116 at Penn State).
 
"He is doing a great job on kick returns, and the whole unit is," Iowa head coach Kirk Ferentz said. "That part of our game has been pleasing and consistent. He has come along as a receiver, too. He made a good play on the touchdown."
 
Smith-Marsette is the national leader in kickoff returns with 15 for 478 yards (31.9 per return). He averages 18 yards per catch — best on the team for anyone with at least three receptions.
 
The Hawkeyes (6-4 overall, 3-4 Big Ten) travel to Illinois (4-6, 2-5) on Nov. 17. Prior to that, there will be five practices and Smith-Marsette knows the drill.
 
"We're going to put our heads down and go to work," he said.