Hawkeye Fan Shop — A Black & Gold Store | Hawk Talk Daily links | 24 Hawkeyes to Watch | Fight For Iowa | ACC Big Ten Saturday Results | Hawk Talk Monthly – November
WEST LAFAYETTE, Ind. —The University of Iowa swimming and diving team suited up seven swimmers as part of the Big Ten Conference team at the ACC/B1G Challenge.
 
Junior Joe Myhre competed first for the Hawkeyes, anchoring the 400-medley relay to a time of 3:11.53 and sixth-place finish. Fellow junior Will Scott and senior Kenneth Mende competed together in the medley, earning a seventh-place finish in a time of 3:15.91.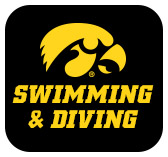 Junior Hannah Burvill opened up the individual events, competing in the 100 free where she earned a sixth-place finish in a season-best time of 49.77. Burvill now holds the best season best time for the Hawkeyes by over a full second. Burvill also swam the third leg of the 800-free relay, which took third in a time of 7:10.07.
 
Freshman Mateusz Arndt impressed with a three-second time drop in the 500 free, completing the event in a season and team-best 4:25.24. He earned seventh-place for this effort. Arndt led off the 800-free relay team in a stellar time of 1:37.84, which helped the relay to a time of 6:30.23 and a sixth-place finish.
 
Sophomore Kelsey Drake tied her season-best time of 53.55 in the 100 fly, earning her seventh-place in a stacked heat. Mende also swam to an eighth-place finish in the 200 backs with a near season best time of 1:47.60.
 
TEAM SCORES (WOMEN)
Big Ten Conference 123 – Atlantic Coast Conference 44
 
TEAM SCORES (MEN)
Big Ten Conference 85 – Atlantic Coast Conference 82
 
HEARING FROM JUNIOR WILL SCOTT
"We're well prepared for tomorrow. It's exciting to see everyone racing and seeing people put up the second or third fastest times in the country, which puts us in a great mindset. It's awkward competing with some of your rivals in the Big Ten, but at the end of the day, we're all teammates now competing for our conference to take down the ACC."
 
UP NEXT
Action resumes at the Morgan J. Burke Aquatic Center on Sunday at 9 a.m. (CT).