24 Hawkeyes to Watch 2018-19 | Hawk Talk Monthly — November | Hawkeye Fan Shop — A Black & Gold Store | I-Club Events Page | Hawk Talk Daily
Editor's Note: The following first appeared in the University of Iowa's Hawk Talk Monthly, a national award-winning e-magazine that offers a look at the Iowa Hawkeyes, delivered free each month to fans of the Hawkeyes worldwide. To receive periodic news from the Iowa Hawkeyes, sign up HERE.
By DARREN MILLER
hawkeyesports.com
IOWA CITY, Iowa — Four cousins, three sports, all Hawkeyes.
 
Patricia Kelly couldn't have imagined when she was raising seven children in Dubuque, Iowa, that they would eventually produce 24 grandchildren, 11 who attended the University of Iowa.
 
Four of those 11 are currently members of Hawkeye varsity sports teams.
 
That scenario is a dream come true for Nicholas Baer, a redshirt senior on the men's basketball team, Molly Kelly, a senior on the volleyball team, Michael Baer, a sophomore on the men's basketball team, and Joe Kelly a first-year member of the wrestling program.
 
"I love it when you bring it up to my grandma, because she will start crying and say, 'It's just because you kids are so great,'" Molly said. "It makes me happy for my grandma and our parents. This is what we dreamed of, but I don't think any of us thought we would all end up here."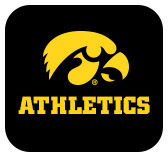 Nicholas, Molly, and Michael came to Iowa as walk-ons. Nicholas and Molly have since earned scholarships.
 
"They did that with hard work and persistence," Joe said. "We learned that growing up."
 
Nicholas is a 6-foot-7 forward from Bettendorf (Iowa) High School. He has scored 555 career points with 416 rebounds and 95 3-point field goals. After his sophomore season in 2016-17, he was named Big Ten Sixth Man of the Year. He is a three-time academic all-conference honoree.
 
"None of us thought this would happen growing up, but it is especially cool because (most of us) came here as walk-ons," Michael said. "That is something we bring to the table and pride ourselves on. We'll find a way to get it done, no matter what. It is something we all have in common and we celebrate."
 
Finding a way to get it done runs through the roots of Patricia Kelly's family tree. Her seven children: Mitch (father of Molly and Joe), Joy (mother of Nicholas and Michael), Jeff, Dan, Tim, Doug, and Jolene "Beanie," didn't have it easy growing up. All of them graduated from Dubuque Wahlert High School and six attended the University of Iowa.
 
After high school, Mitch hitch-hiked to Iowa City, found head wrestling coach Dan Gable on campus, and asked to join the team. He was part of four national championships and earned three academic degrees. Now a professor in the Department of Education, Dr. Kelly was named Professor of the Year at Iowa in 2013.
 
His final dual wrestling meet was Feb. 21, 1987, against an Iowa State team that defeated Iowa, 23-12, earlier in the season. Because of an injury, Kelly was a late addition to the lineup at 142 pounds. He defeated Iowa State's Michael Carr, 15-11, a swing match that allowed the Hawkeyes to win the dual, 18-15.
 
Not unlike Mitch, the four cousins have capitalized on their opportunities.
 
Molly participated in four sports at West Liberty (Iowa) High School, but wasn't sure what her collegiate sport would be until her junior year. She visited Iowa as a sophomore, but didn't think she would be extended an opportunity to join the volleyball program.
 
That changed when head coach Bond Shymansky took over in 2014. Molly not only made the squad, but she developed into a team leader. The Hawkeyes won 11 matches the season before Shymansky took over and two years before Molly arrived. After win totals of 19 and 18 in 2016 and 2017, the Hawkeyes are (as of Nov. 12) 14-13 with four Big Ten matches remaining.
 
Molly, a defensive specialist, is second in the Big Ten with an average of 5.11 digs in 101 sets. She also has 93 assists and 20 ace serves.
 
"I remember sitting in Bond's office during the recruiting process and he said, 'You have a chance to be part of changing this program and turning it around,'" Molly said. "That is just as important as being on scholarship now and having a starting spot."
 
As the collegiate journeys for Nicholas and Molly come to a close, they are beginning for Michael and Joe. Michael, a 6-foot-6 guard, joined Fran McCaffery's team after serving for a season as team manager; Joe will redshirt and compete for head coach Tom Brands at 157 pounds.
 
"My dad came here for wrestling, so he has always been the inspiration to me," said Joe, who placed third at the 2018 Class 2A state wrestling championships at 152 pounds. "I followed in his footsteps and I am living my dream. It feels I have big shoes to fit into, especially since Molly and Nicholas built their way up and are on scholarship."
 
The cousins were not strangers growing up and that hasn't changed. There are Iowa Hawkeye watch parties, tailgating, holiday get-togethers, and pizza night at Uncle Tim's.
 
"We know each other so well and that makes it more special," Nicholas said. "Having a chance to grow up with all of them, seeing each other at family holidays, and then getting to run into them on campus and at Carver-Hawkeye Arena is great."
 
Some days it is the boost a cousin needs. On Oct. 11, as Molly hurried from one midterm exam to the next, she noticed a familiar sight: Michael.
 
"It is a reminder of where we came from and the bigger picture in life," Molly said. "It brightened my day. I was like, 'I'll be OK after this.'"
 
It has always been family first for the cousins.  
 
"There were times when I should have been studying, but instead I went to pizza night," Molly said. "It was absolutely the best decision."
 
Patricia Kelly still lives in Dubuque and her children have spread to Bettendorf, Cedar Rapids, Dubuque, Iowa City, Bettendorf, and Minnesota.  There will be a large contingent of Kellys in attendance on game day, especially if grandma makes the trip to Carver-Hawkeye Arena.
 
Ten cousins are members of a family group chat titled Iowa Cousins. That's how news spreads on who is coming to the game…and where everyone will gather postgame.
 
"If grandma is here, everyone is here," Molly said. "It is so special. Our parents had it rough growing up and this reflects the drastic change from their childhood. This is an incredible opportunity, and although we had to work for it, it is cool (grandma) gets to experience it."
 
The success of the cousins isn't limited to Hawkeye athletics. From another branch of the family tree, there is one taking a stab at a career on Broadway, another is in the marching band at Northern Iowa. Through it all, the cousins have spent a lifetime supporting each other…and having fun doing it.
 
Molly said when the gang is together at men's basketball games, they seek fans wearing Nicholas' replica No. 51 jersey and ask to take a photo. When the questioning fan asks why, they name-drop that they are Nicholas Baer's cousin.
 
If Molly meets a student who is majoring in education, she has to inquire if they have taken educational psychology with Mitch Kelly. A typical reply?
 
"Oh my gosh, yes. Have you taken the class with him?"
 
"No, he's my dad," Molly will reply. "It's fun."
 
Life certainly is fun for the descendants of Patricia Kelly. It is extra fun and unique for the four who are Hawkeye student-athletes.